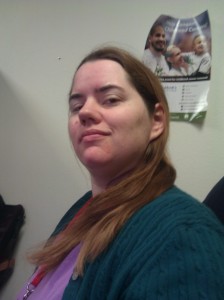 Well, I'm signed up to do the St. Baldricks Shave, which means all the beautiful hair I've been growing for the past two years? GOING, GOING…. soon to be GONE!
Why am I doing this? Frankly, because St. Baldricks funds research and treatment for childhood cancers. If I could live in a world where children didn't get cancer, or when they did it was quickly and effectively trated… that would be a pretty good world to live in.
Locally, St. Baldricks has helped support a sliding scale clinic that treats children no matter what their ability to pay. The clinic has gone from a small, 3-room doctor's office with a 6-week waiting list, to a full-sized clinic with very little wait. Just reducing the amount of time before treatment can begin can mean the difference between life or death.
So, how can you help? I mean, shaving my head is nothing. My hair doesn't have any special magical, cancer-eating properties. Nope. But you can help by donating to my page. Every dollar brings me closer to my goal, and closer to baldness.