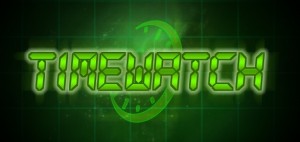 The answer to this one, after over a hundred kickstarters, is still Timewatch, but for different reasons than last year.
Last year, my reasons for loving this game were fairly simple: it's an awesome game that has huge potential and an amazingly fun sense of humor in the writing. The setting is evocative but open-ended enough that you can change it. You can even change it mid-game because the nature of time travel is such that one change could alter the future culture significantly.
You can take it silly, in a Bill and Ted's Excellent Adventure way, or a serious as the original Terminator movie. I've used it for an Aliens "bug hunt" style adventure, a wildly gonzo adventure, and a historically-drenched Viking saga.
But that's not why I love this game. I love this game because it helped me finally take the step into writing games for pay. I'd already started writing Threadbare before Timewatch went onto Kickstarter, but I hadn't really understood what I was doing, and although I'd been a writer for over fifteen years by then, I hadn't done anything serious in game writing.
The Book of Changing Years is my first real contribution to the world of gaming. I added a zombie plotline to the book, one which is based on a trilogy I ran at last year's GenCon. I was then tapped to write Day of the Wehrwolf for Pelgrane Press (which publishes Timewatch). I've been contacted for other projects as well. This all gave me the confidence to reach out to Mark Diaz Truman at Magpie Games and finally talk about Threadbare. I just finished writing my contribution to the Epyllion supplement, the Encyclopedia Draconica.
Basically, I can track a lot of my game writing activity to backing Timewatch, running it at the Contessa online event while the Kickstarter was still active, and continuing to run it and write stuff for it and other games afterwards.