I have knit 5 rows on the hoodie.
I realized partway into row 6 that I'm using the wrong needle. I'm using the gauge needle. I'm supposed to use the "one needle smaller than gauge" for this part of the sweater. I can either keep going on the wrong-gauge needle and accept a slightly looser garter stitch edging. Or I can rip it back, crying all the way.
I will probably cry as I frog the whole thing.
I will definitely cry if I can't find my ball winder. Since I'm frogging the whole thing anyway, I thought I would re-wind the yarn into a ball. I have looked all morning for my ball winder, but have had absolutely no luck in finding it. The last place I remember using it was laying in bed, late at night, winding balls of yarn for this sweater before falling asleep. I have, in fact, looked all over the RV and carefully checked the bedcovers for it, but alas, it is completely missing. I'm getting suspicious and think someone sneaked in and stole it when I wasn't here. Or that the cat ate it. Either is equally probable.
This is my washed and blocked gauge swatch, complete with a little cabling to practice/see what the cables do. Like the lighting? Go me with my mad iSight/PhotoBooth skillz.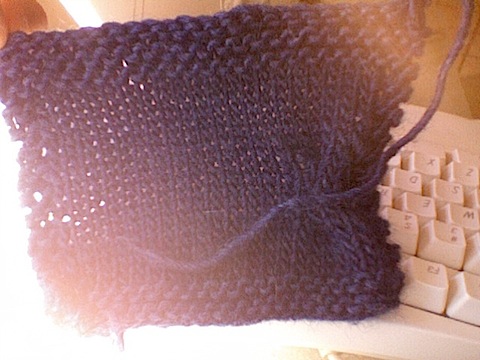 Also, in knitting these 5 rows, I have made so many mistakes. Half of them are Not My Fault, as the pattern has several typos in the cabling directions. The other half…. well, let's just say I'm not the world's most astute knitter and leave it at that.
I wasn't even drinking, I swear.