I am going to have to draw out the Maryland Sheep & Wool amazement a bit, but I wanted to share this, because it is just about one of the coolest things I have ever seen.
This is a nice, heavy, supported (i.e.: non-dropping) spindle for spinning yarn. You turn the big wheel at the base with your hand, just kind of set it in motion, and the twist comes off the end. There's no hook or anything on the end to help capture the yarn, but if you sit perpendicular to it, it works.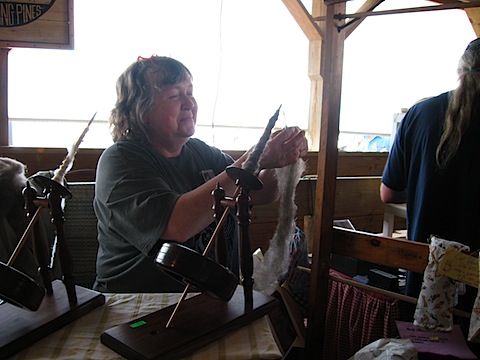 Brilliant! Don't you just love cleverness in tools?
I saw this and gushed. I already have a wheel and I've long since claimed storage space for it, but if I hadn't, I would be looking for something like this. Drop spindles, after a while, get tiring. They are, despite the beautiful spindles and spindlers I saw yesterday, a very physical activity for me, and they are not very fast. Also, when you're learning, they can be difficult to learn, and are prone to, well, dropping. The advantage of wheels is that you can keep them in perpetual motion with your feet, but they cost quite a lot and take up a large space in the RV.
This spindle is heavy and spins for a nice, long time once set in motion. It's not as versatile or portable as a drop spindle (but, again, no drop-and-roll!), nor is it quite so fast as a wheel. But man, what a terrific way to spin on the road. It costs $110, which is considerably less than a wheel or a charkha, and considerably more than a drop spindle.
They're made and sold by Whispering Pines, in Colrain, MA. Carole says the website is wonky, but her phone number and email address are right there on the website, if you want to drop her a line and ask about these lovelies.