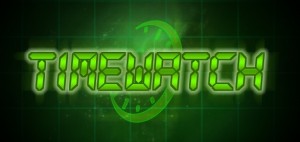 I ran TimeWatch yesterday afternoon online. It's a game I scheduled a few weeks ago, and I've had a lot of interest– not just because I accidentally sent the Google Hangouts invite to everyone I know on Google+ (about 270 people… oops).
This game group is a public one, which means I let anyone join, but you RSVP for single sessions as they become available. So if you're reading this and it sounds like fun, pop over to our space on Tavern Keeper and sign up for the Timewatch agency!
Over the course of the past 2 weeks, I've had players RSVP, select characters, create characters, etc. And I found myself, as of last weekend, with a handful of gender-benders. All my players so far are men, and all the characters at that point were women. I thought this was delightful and decided to run with it.
In my "pitch," the intro I post about the upcoming game, I hinted that this would be an Ides of March game. In the pitch, Julius Caesar tells the agents that he has some recruitment for them to do.
TimeWatch is a game about solving time mysteries, usually violations against the timeline, so a recruitment story seems like it'll be a little more heavily weighted towards action, rather than sleuthing.
In the end, I had the following agents signed up:
Altani, one of the iconics, a 13th century Mongolian warrior princess
"Angel," also known as Clara Barton, a doctor and founder of the Red Cross from the mid-19th century
Dariya, a street thief from 9 BCE in Persia
Vid, a female-formed T-1000 from 2043. Her fellow agents do not know she can shapeshift.
Anthony Grey, a high society cat burglar from the 1970's.
I decided that, with so many women, I had a perfect opportunity to put them in a space where there are more women than men. No, not a yarn shop, though that would be interesting. Instead, I had them recruit one of the most badass time agents of all: