This year, I organized the 4th Edition D&D games for Free RPG Day at my local comic book shop, Avatar Comics and Games.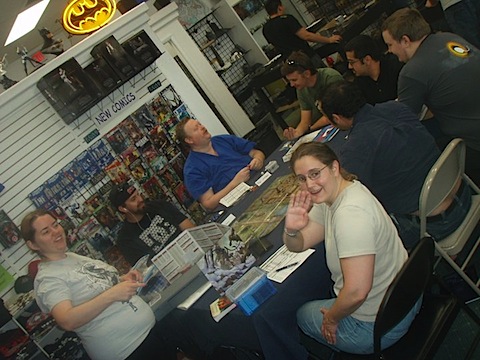 It was a huge hit. We decided to run the current season of D&D Encounters, through session #6 (the most recent session played until then). That meant about 6 hours of 4th edition, but I planned two "relief DMs" to come in and help out, and I figured it would be a lot like last year, when I showed up to help and wound up playing all day because we didn't have enough players.
Well, not so this year. Apparently, the last year of studiously working my Summon Player ritual has paid off. I think we had about 20 gamers come play the encounters. Some are old friends– the gal waving hello in this picture is from my old game group in California– she and her husband (our DM) and daughter (future gamer!) happened to be in town and she stopped by to play.
Most of the gamers we had are new to the game or 4th edition. We had a few who already played in our Wednesday Encounters group, including some who were there to get the first sessions which they had missed. And some were brand new to the game or had only come for freebies and stayed for the fun.
I highly recommend, especially if you're using Encounters as a way to get people to come play, to have a "catch up session" mid-season. This lets some of your walk-ins bring their new character and get the XP for playing the previous sessions. It also lets people who had a character they don't really like try the campaign out with someone new.
For one of the encounters, we had just enough players that I decided to split the table in two. My friend Mike took one table, and I took the other– we had 3 players on Mike's and 4 on mine. It was a minor disaster. Both parties ended in a TPK– whoops! It's a tough encounter to begin with, probably the toughest in the campaign so far. When we played it in our regular encounters group, the DM had massively softballed the encounter in response to player lobbies (we were worried about one of the kid players losing her PC).
One of our Wednesday players who came to play also won a pack of 4th edition D&D stuff, all of which he can happily use in the Encounters games and beyond!
For the shop, it was a great day. In addition to our 4th edition table(s), they had Pathfinder, Dresden Files, Castle Ravenloft, and I even saw a miniatures game going on in the front corner. They did brisk sales all day, massively outpacing last year's sales for the same event.
Oh, and I picked up a few fun games while I was there, including a D&D accessory and a quick-start for a zombie game! Overall, a massively fun game day, and well worth giving up my Saturday.