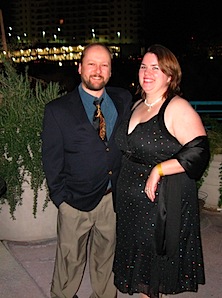 John and I attended the New Year's Eve party here at the RV park last night. I wore The Dress, shown here in the picture. It's a flirty-skirted strappy Little Black Dress with a diamond texture pattern highlighted with little dollops of glitter at each diamond point. It looks great on me. I also wore pantyhose (!!!), strap-backed black heels, a strapless bra (!!!), and glittery hair jewelry, body glitter, and the faux pearl necklace I wore at my wedding. I even wore makeup (!!!). I carried a satiny black stole and the black evening bag that Inga gave me.
The entertainment at the party was karaoke, highlighted with the karaoke host singing well, and punctuated by a dozen or so of the "local talent." There was a dance floor (yes, we danced to karaoke). The food was all right– pretty standard buffet fare. The drinks were fine. The company was wonderful– fun, laid-back folks having a great time. We went home just after midnight, mainly because the party was pretty much over and we were ready to call it a night. We caught sight of the fireworks as we walked home.
In a bizarre case of 6-Degrees, at the party we sat next to Chuck, who is a friend of The Pirate, aka my friend Junglemonkee's husband. Wow! Insanely small world!
I suppose we could have gone out to a really big, high-celeb-body-count party (this is Vegas, after all), but… why? We had a great time where we were, and I felt beautiful all night.
I spent this morning working on the comic book, and we're now about to head out for brunch.
I hope everyone had a wonderful New Years Eve. Welcome to 2009!!!