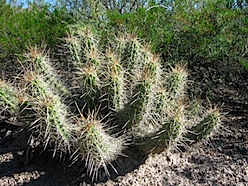 We're staying 1 mile away from the Big Bend State Park Visitor's Center (and about 35 miles from Big Bend National Park). Since there was the end of the big chili cookoff and 10,000 people on the road between us and the national park today, we went exploring in the state park.
On this little canyon hike, we brought a few basics, my colored pencils and sketchbook (though I didn't end up sketching), and cameras, with the intention to take a bunch of pictures of wildflowers and plants. That, I managed to do, including a couple of cactus that we didn't actually see– they were waaaay up at the top of the cliff. Wild.
Heading down to the canyon, we stopped for a few amazing views on the way. This area is very beautiful, despite the residue from the Rio Grande flooding earlier this Fall. There's a lot of damage– in Missouri, a river will flood and, yes, there's damage, but it's mainly structural damage, with some road problems. 2 months later, the floodplains will already be sprouting new growth.
Here, the mud is still caked on, on the roads and along the riverbed. It makes the Rio Grande look much more imposing and dangerous than it normally does– this is a river that you can often cross (illegally) without getting your feet wet. Just hop across on the rocks, and shimmy up a cliff with a rope, of course.
The canyon is a river wash called "Closed Canyon." it's shocking how little is living in the bottom, but of course, this little patch of the world gets about half an hour of sunlight a day, and probably none in winter (there was none when we were there, at noon on daylight savings day).