For the first time in a long time,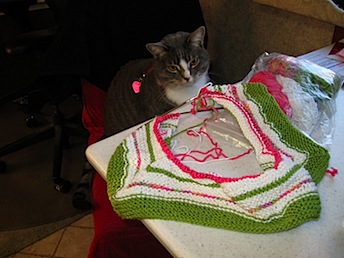 I feel inspired to knit for infants. My childhood best friend is having a baby (a girl!), and Marc (comic book artist) is anticipating a baby of unknown sex (shy baby).
I'm starting with a gift for the baby girl, and am making a Baby Surprise Jacket. I promised up and down not to make it all pink, so I'm going with pink, green, and white. The yarn is a bamboo/cotton blend, so it has a nice shine to it, but it's lightweight. The baby is due in May, so this will be a perfect little sweater for Spring and Summer. If I'm still in baby-knitting mode after finishing the jacket, I'll make a hat and booties from the rest of the yarn.
Notice the cat in the photo, evilly plotting how he's going to get his claws into this yarn.
Other baby-related knitting in my near future:
A couple of socks and hats for Marc's new arrival.
A stuffed animal for new baby girl's big brother (so he doesn't feel left out).
And I'm still working on Thank You Hat #3, a couple of lace shawl designs, and some designs of my own.
Oh, and notice the Evil Cat staring at my knitting? Yes, he would like very much to eat that whole project, needles and all!