No, not Santa Claus. It's the awesome superheroes who grace the pages of my new (first ever) comic book, Handknit Heroes! It's also the first graphic novel for knitters. Each issue features a knitting pattern and an awesome story, illustrated by a terrific comic book artist named Marc Olivent.
Issue #1 has an excellent pattern by Erssie Majors, a very talented and professional designer. I'm grateful to have found (or been found by!) two very creative and easy to work with people at the start of this great adventure.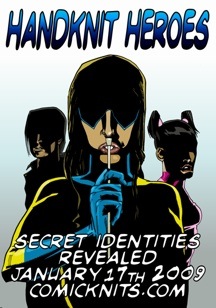 The comic officially releases at the TNNA trade show in San Diego in January, 2009, but I'm reserving a limited number of issues to send out to bloggers and other folks to review in an advanced-copy Sneak Peek. Folks will be able to buy it at local yarn shops or through a subscription available online. The comic will be published 4 times a year (at least until it takes off like hotcakes).
This is a major project I've been working on since last December, and I'm very excited that it's almost done and ready to go. Please do sign up at the website for announcements or the Sneak Peek program, if you're interested.
Oh, and yes. There will be crochet.