I don't have a good pic of the "entering Missouri" sign, because they put it on an onramp onto the freeway we were already on, instead of putting it after this sign:
Another picture-heavy post. I'll try to cut it on my LiveJournal after it goes up.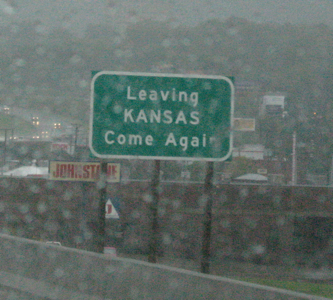 That's rain, not snow. We managed to arrive during a big rainstorm. Of course. Can Missouri EVER have normal weather when I'm there?
My niece played with the silk leaves included in the Trick or Treat bag I gave her. Notice the beautiful sky behind my mom, through the window?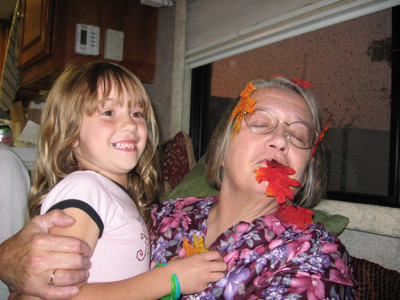 We went to the Zoo for Boo at the Zoo. Niece is a princess for Halloween (and every day).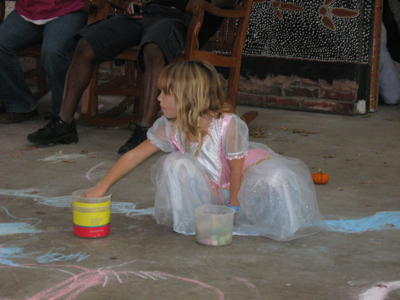 Nephew is a goofball. Oh, for Halloween he's Ghost Rider– really scary looking.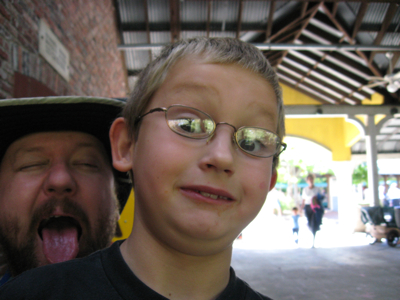 Husband is a a goofball, too. He's a vampire on holiday for Halloween.
Yesterday, I finished knitting these: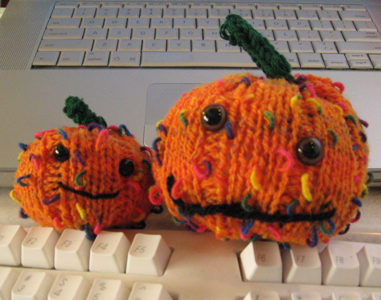 They're made using the curly purly pumpkin pattern. They're for a swap on swap-bot. I knitted them at a stitch-and-bitch in Kansas City out of this yarn: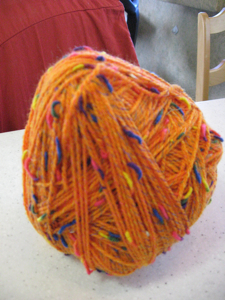 It's a magic yarn ball I received from a fellow swapper. A Magic Yarn Ball is a hunk where you wind a skein or two of yarn around something round, and add in little bits and presents as you go until you run out of yarn. So far, I've found some temporary tattoos and what look like little glittery appliques.
This is the one I sent to my swap partner: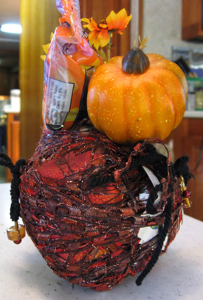 You can either have the goodies fall out as you use the yarn in the normal course of crafting, or (if you're impatient, like most people), you can unwind it and get all your goodies all at once. I also made a second one for someone whose partner flaked on her, but I can't find the pictures right now.
Here's what the pumpkins looked like when I mailed them yesterday: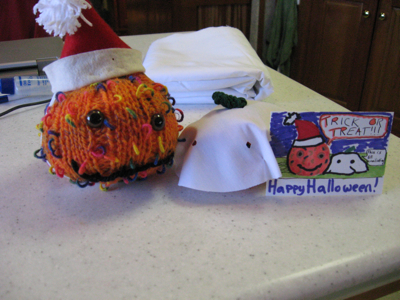 Please don't mock me too much for making costumes for my swap pumpkins. I finished making the pumpkins, and then thought how cute they would look (and how easy to make) in little ghost costumes. So I made a ghost costume for the small one, who I imagine as being somewhat sinister in a take-over-the-world kind of way. The other one just looks like a big dumb goofball, and I decided it would dress up as Santa Claus for Halloween, because it's a goofball.
The ATC (Artist Trading Card— it's a small piece of art for the sake of art) just came out of nowhere, I swear. Here it is close up: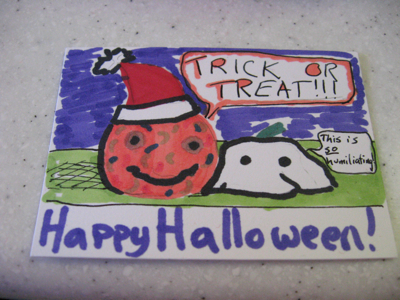 I used a bunch of Sharpie knock-offs I bought at the Groveland Gold Rush festival, and they are total crap. They all leaked, one was cracked… total crap. So I bought new Sharpies yesterday while I was out with mom, and now have Sharpies to my heart's content.
This is what I look like in my costume: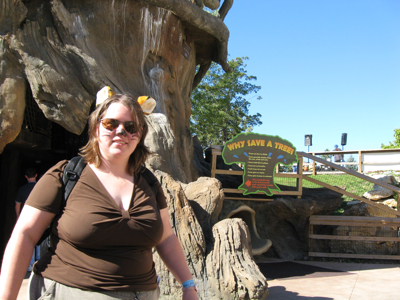 Neat, huh?