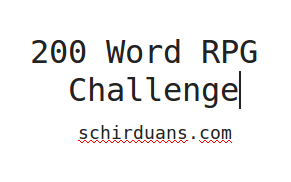 I have a lot of cool gaming stuff to talk about this week, so I'm scheduling posts out a bit.
The big one for today is that David Schirduan's 200-Word RPG Contest is back and better than ever!
I'm a judge this year, so starting April 15th I'll be reading anonymized entries, along with my fellow judges, to determine which ones are best in each category.
I'm really looking forward to participating in a different role this year, and hope anyone reading this blog will decide to try it out! There are a ton of new game designers giving it a shot.
It's a fun, quick exercise that can really help you focus in one the core mechanics of your game. In addition to just being a great contest with some great prizes.