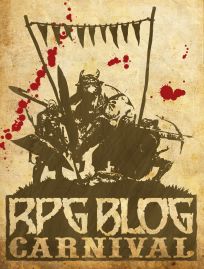 This month, I'm hosting the RPG Blog Carnival, with the topic of weather.
I was inspired by the old slogan "April Showers Bring May Flowers," but also by the wonderful weather I get living in the American Southwest. Last night it rained, and the smell of rain on pavement (petrichlor) was downright magical as I drove through the neon-lit streets of my city. I imagine that smell is as magical in a cyber-futuristic world, where the world is filled with concrete. It's a different smell than in the country, where it's more green and organic– it's not petrichlor anymore, but simply "rain."
What does it do to the mood of an adventure if there's rain gently falling on the characters? How tense do the players get when they're facing down a dust storm?
Want to join the carnival?
Post your thoughts on using weather in RPGs in your own blog, tumblr, twitter, or favorite social media site and link back to my blog. Your post must be publicly visible to be included in the carnival! If you're worried I haven't seen it, come back here and leave a comment with your link!
Note: due to spam, I have comments moderated on my blog, so yours won't show up right away, but don't worry– I will see and approve it.
Then What?
At the end of the month, I'll post a roundup of all the blogs that joined the carnival and we'll have a great little crowdsourced resource for implementing weather in your games! I'll also edit this post with a link to the roundup, so if you bookmark this post, you'll be able to get the other one, too.