Recently on Google+, a group of us decided to knit and crochet the Maple Leaf Shawl as a Fiber-A-Long in December. People went about getting their yarn and needles together throughout October and November, and wrapping up any loose ends of crafting before the month started.
I started on December 1st and finished by the 15th. I used a bunch of handspun I've had for a while– some of it is silk, some is superwash, and the bulk is a purple and yellow wool/mohair blend. I've used all this yarn before, in making myself a sweater. Somehow, my handspun is either far too much for whatever I want to make, or not nearly enough. It's never quite "just right."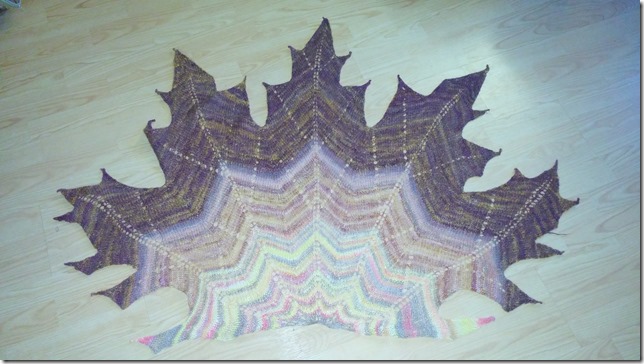 In the process of knitting this, I realized that, while I was enjoying the process of knitting it, I wasn't in love with the end result. It's gorgeous– don't get me wrong! But it's just not me.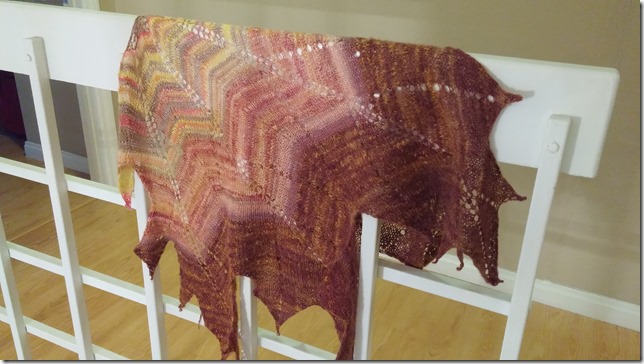 Unfortunately, during this month, my best friend's grandmother passed away. His mother, a lifelong knitter herself, is hurting pretty badly over the loss of her mother, and even though we haven't met yet, I tucked the shawl in a gift bag with a note and sent it as a comfort shawl to her.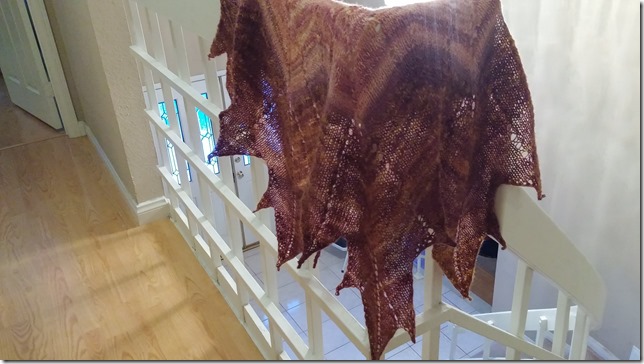 Nothing replaces her mother, of course, but I hope a little thing of beauty helps comfort her in her grief.