Over the weekend, I finally achieved a hair color I'd been trying to get for over a month.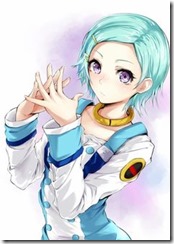 My natural hair color is a dark brown. It is a perfectly fine color. I don't hate it, or really anything about my hair and face, which is saying something about my comfort levels as a woman of a certain age.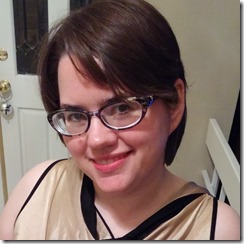 What I dislike about it is that it is wicked-hard to dye. It repels dyes. It needs to be stripped of color before dyeing can even take place, and even that takes an hour with bleach destroying my hair.
Nonetheless, when my boss said "sure" to my request to dye my hair, I already knew I wanted teal or pink. Or pink and teal. I went to a salon, discovered they were out of teal hair dye, and opted for pink and blue.
First, she stripped my hair of color, a process which didn't take as long as it should have:
She left a lot of the yellow tones in my hair.
For reference, when I've done this before, I used a 40 toner to bleach my hair, which lightens it to almost this state. I left it in for about 40 minutes, at which point the thin bits on the temples were downright platinum, while the rest of my hair was a light blonde.
We then used clips and tinfoil to isolate my hair and put pink dye on the bangs:
And then blue dye on the rest: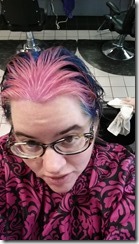 Result, about 15 minutes after the salon:
The pink washed out of my hair very quickly, though. This is taken later that weekend: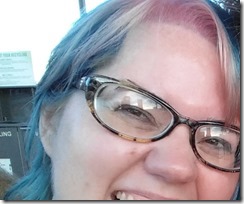 And this is 2 weeks later. The pink is almost entirely gone: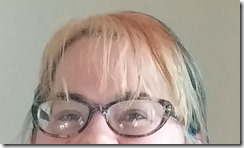 The problem is that, as I said, my hair repels dye. It was my stylist's first time doing "non-natural" hair colors, and she left the dye in for about 20 minutes. Her tint brush work left streaks in my scalp that lasted longer than some of the dye in my hair.
Maybe if you have very thin hair, 20 minutes is fine. For me, it's not. What happened is that my hair was streaky and blue-green in the back where the blonde quickly started to show through the blue. But it wasn't an even teal– it was more like streaks.
And then, I had to go to rural Missouri for a family funeral. While my family embraces me in all my weirdness, I did not want my hair color to detract from the purpose of the event. On the Sunday before we left, about 14 hours before hopping on a plane, I grabbed a couple of bottles of L'Oreal and dyed the whole thing a plain blonde.
By this point, it had been over 3 weeks since the original dye job, and it was mostly blonde with light pink streaks and blue streaks anyway.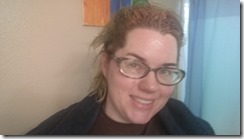 This dye job didn't really do the trick of evening everything out, but it did mute all the colors so I wouldn't be the center of attention.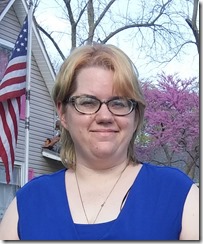 The funeral was fine, and I went home after 10 days.
The following weekend, I was Determined to get teal hair. The weekend before I'd left for Missouri, I bought a bottle of Special Effects hair dye in "Fishbowl" at the local record store. I stopped at Sally Beauty Supply and picked up:
A bottle of level 30 toner
2 packets of "blue toner" for removing yellow highlights
A tint bowl
An extra tint brush and comb
2 packets of "hair coloring pre-treatment" to even out the strands and get them to take the dye evenly
2 packets of "hair coloring post-treatment" to seal the strands after dyeing
A bag of hair clips
Some gloves
a bunch of plastic hair caps to cover my hair while it had chemicals on it
At home, I put on a shirt I didn't mind trashing. I put in my contact lenses, because it's really hard to dye your hair with glasses on! I put on gloves. I spread mud mask, like you use for facials, on my skin all along my hair line. The instructions on the bottle say to use petroleum jelly. I only recommend this if you want to have petroleum jelly in your hair for the next 2 weeks, because that stuff does not come out.
I set everything up and got started, first with the pre-treatment packets. Worked that into my hair thoroughly, then rinsed as recommended.
I mixed half of the bleach bottle and the bluing into a plastic Solo cup and used a tint brush to spread it onto my hair, starting at the top, focusing on the roots.
I left it in for 40 minutes, starting the timer after I finished putting the bleach on. I played video games for 40 minutes, then took the cap off and rinsed some of my hair out. It was still dark, especially at the roots, so I touched up with the bleach and  waited another 20 minutes.
After about 60 minutes, you start running the risk of having your hair fall out, so I rinsed my hair at that point and decided it would have to do.
I poured a bunch of the hair dye into the tint bowl and used the (well-rinsed) tint brush to brush it onto my hair in bunches. Basically, taking a handful of hair, separated out using the long end of the brush to part my hair into sections and pull it away neatly from my head, I "painted" the handful from the scalp to the middle of the strand, then used fingertips and the comb to work the dye out to the tips. I did this for as much of my hair as I could reach, often having to do mirror tricks to get the hanks in the back.
I put the cap back on for 40 minutes, checked, and wasn't totally happy. I touched up the front especially, and then put it on for another 30 minutes.
I knew that the front of my hair and the top of my part would be the most visible parts of my hair, so I focused on getting those right.
When I was done, I rinsed everything for several minutes, applied the post-dye cream, waited 5 minutes, and then rinsed everything (the mud mask included) off in the shower. The post-dye cream is a conditioner, so I didn't need to wash my hair for 2 days.
It was, unfortunately, still very patchy. It also lightened up quickly over the next couple of days.
When you ask friends "What do you think of my hair" and they pause before answering, you know you didn't get it right.
I waited a week, and tried again. This time, I bought a second bottle of Special Effects, and used all of it on my short hair. I had a friend help me so it was more evenly done, especially in the back and on the sides (ears are such a pain!) We didn't do the pre-treatment this time, and I didn't want to bleach my hair and damage it more. We just put the dye in, and left it for 45-60 minutes. We played games while my hair did its thing.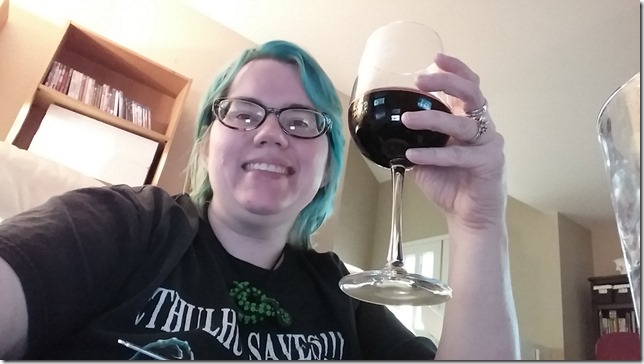 There is a single lock on the right side that is blonde, despite our best efforts, but the rest of my hair is unarguably bright teal. It's "anime hair" in the completeness of the coverage, and the evenness of color.
I'd advise the following for anyone considering doing the same:
Use mud mask to protect your hairline. That keeps dye from getting on your skin and changing the color.
Use a disposable comb to comb the dye all the way out to the tips of your hair.
If you plan to get a haircut, dye first, cut second. The tips are wicked-hard to get, but if you're going to get a trim anyway, they will end up on the floor of the salon.
Get a friend to help you! You really can't get the back of your own head on your own, and your friend will be able to see all the spots you would miss. Also, dyeing the hair at your temples and near your ears is hard– get someone to help!
Leave the color in for a long time, unless you are trying to get a pastel (in which case, I'd go to a salon).
Use a post-dye conditioning treatment to lock in your hair color.
Use a dye-friendly conditioner thereafter to keep your hair looking healthy.