–Effie Cotter, with apologies for linking primarily to the Book of Faces today.
On Saturday, bright and early, we assembled in the dubiously-lit courthouse for a lesson in hair and makeup by Lady Ember Brennen Sparks. Lady Sparks approaches cosmetics as the final, but crucial step on one's costumery, and her approach is not unlike an artist looking at a canvas.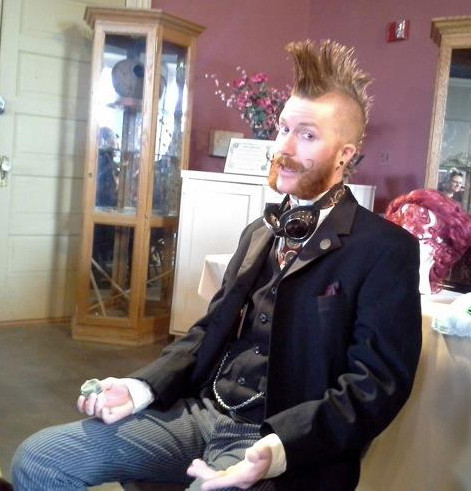 First on the chair was Mr. Oswald, who was there for a gentlemanly mohawk touch up, eyeliner, and mustache wax. The very light application of eyeliner is a simple, yet effective way to give men slightly more expressive eyes without making them too effeminate.
For mustache care, Mr. Oswald suggested the fine mustache waxes of Randy Steerman from Dethroned Media. These waxes are custom-blended by Mr. Steerman to accommodate any tone of facial hair. One can carefully use a curling iron if needed to set a mustache, or simply use one's fingertips to curl and twist into place.
Unfortunately, Lady Sparks has quite a bit to say about wigs, which she did not have time to pursue in our limited one-hour session, but her prevailing advice is: use them. They are warm and remain perfectly styled, even after a rain. Use v-style hairpins, especially at the hairline, and pull out some curls around the hairline to hide the harder "line" where the wig meets the scalp.
For thick, longer hair, a tight French braid can keep the hair close to the head under a wig cap.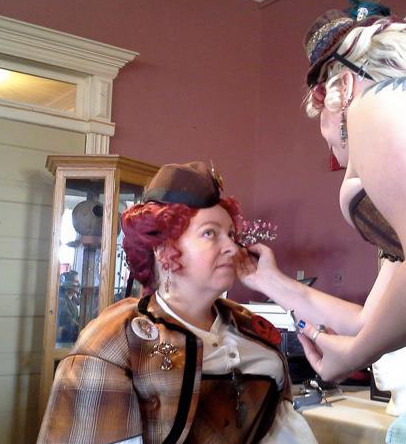 When applying makeup, Lady Sparks suggests starting with a foundation, then using primers, such as from Urban Decay and Too Faced, as a base layer under your colors. ELF is another affordable makeup, with a clear gel to which one can add any color for lips, gel liners, even shadows.
On eyelids, use a medium tone on the lid, highlight above, and a dark color in the crease. Lady Sparks insists that "blue eyeshadow is not of the devil, ladies!" and that one should use shadows that enhance one's costume, rather than match. The ELF shadows in particular are just pigment, and can be intense, requiring the use of a primer to make them more natural-looking. Replace all mascara tubes every six months and do not share them, as they are prone to contamination from bacteria in and near your eyes. If using false eyelashes (which can be reused easily), apply them after doing the eyes, then re-touch the eyes.
She recommends ecotools for their brushes, and suggests that one should always use a thin, tight brush for the lips, as opposed to a stick.
Lady Sparks' favorite lipstick is MAC Cosmetics Russian Red, one of the very few blue-toned lip colors. She then blends it with eye shadow to achieve whatever colors she wishes for her lips. Other options include various lip "stain" products, including from Clinique and Cover Girl. Above all, she recommends avoiding waxy lipsticks. Use testers at the store to check both color and consistency of any products you may consider acquiring.