My Mosaic Sampler Hat pattern was published at the Knit Picks Independent Designer site today!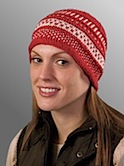 I designed and made the first prototype, which I gave to my niece Julia for Krismas, in response to Get Excited and Make Things, which I read about over on Wil Wheaton's blog back in November.
The pattern costs $1.99 to download in PDF format, and includes instructions for knitting this awesome, cute hat in two colors. The pattern uses mosaic knitting, which means that, although you're using two colors, you never have to use more than one color or strand at a time.
I classify the pattern difficulty as intermediate because it requires knitting in the round, increases, decreases, and picking up a rolled brim. The nice thing is, if you really balk at the rolled brim, you can leave it for later and just whip-stitch it down (if you're tidy, no one will notice).
And here it is on my wacky little self: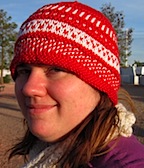 Go check it out, you majestic knitters, all!