We call it "selfish knitting" when we knit for ourselves and nobody else.
Yesterday, I frogged a sock that wasn't grabbing my interest (I'm sorry, cables: I don't like putting you on socks), and I cast on for something new: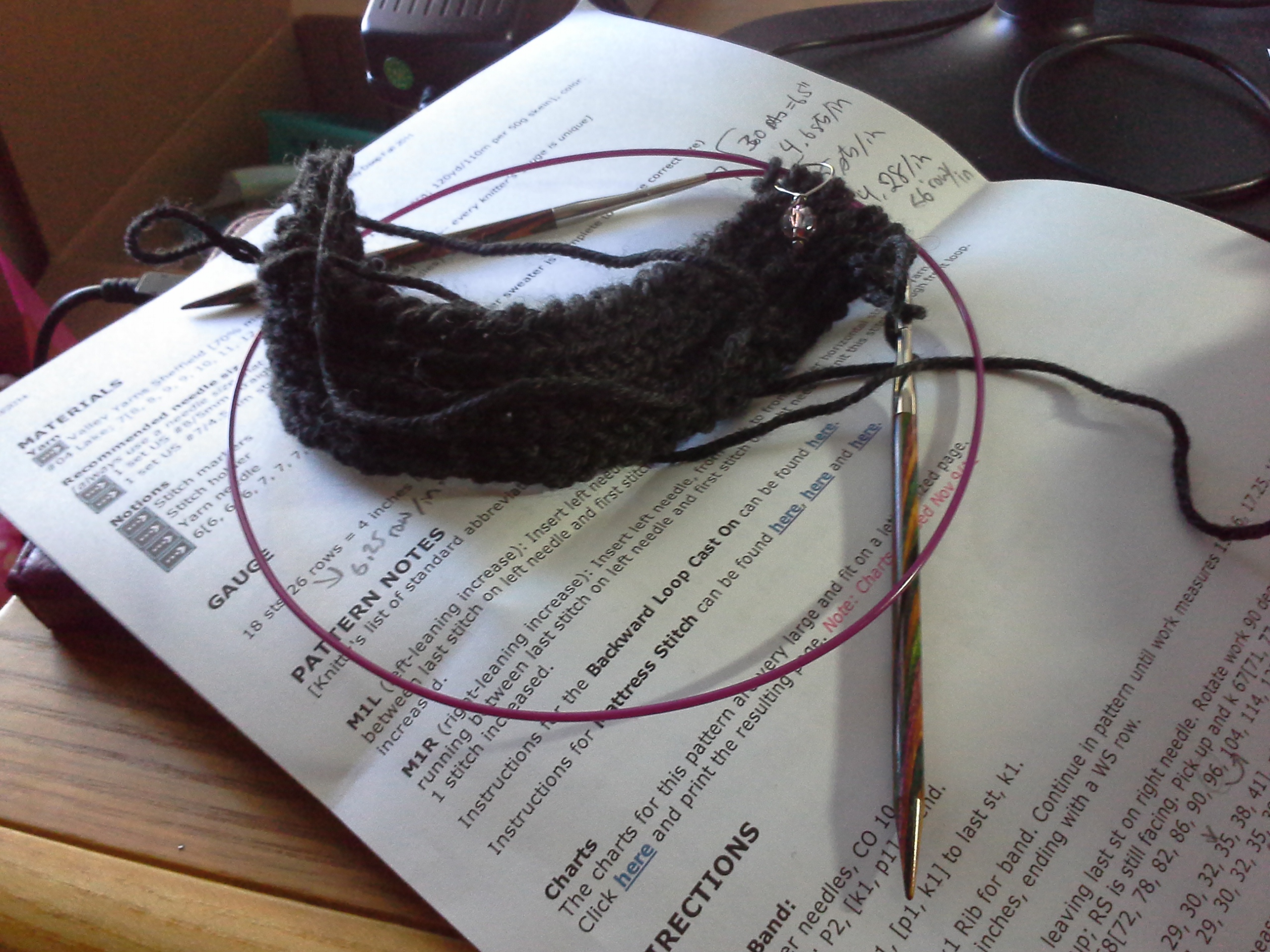 It's hard to see, but that there is a sweater. It doesn't look like much of one, but I promise you, when it's done, it's a sweater.
I have knit 15 sweaters since I started knitting. I currently have 1 in my wardrobe, and I'm not enamored of it. It's too short for my torso– I should have made it about 8″ longer. Alas.
My favorite sweater is the one I lost, of course. It would have to be. Even though I made a replacement in red… it was never the same, and I ended up giving the red sweater away. I loved that February Lady Sweater because it was gorgeous due to my use of highly saturated Malabrigo sock yarn (doubled), lovely ombre color changes, and nice shaping bust darts.
The orange… thing… I made last year? Yeah, not wearing that. It makes me look huge.
So, I spend some time looking about for a sweater pattern that I might like. Had to be shapely– I don't need a box-sweater. Had to have a v-neck and be a cardigan. Had to have project photos on Ravelry of plus-sized women wearing it. Had to have project photos on Ravelry of people wearing it without it being buttoned up. Some cardigans are sneaky and only look good when fully buttoned. These sweaters are not for me, since I usually like to leave my sweaters and jackets open.
The yarn is Cascade 220 Superwash in a dark grey. I intended to make a Hermia out of it, but decided that I don't really like the peplum feature (something which is shared by the February Lady Sweater). But the Vignette…. really subtle shaping at the waist, bust, and sleeves.
I'm considering modifying it to fit my wider hips, and will probably add bust darts even though the pattern itself has some shaping at the bust ("some" is not the same as "accommodates a very large bust). But in general, I like the pattern for some very specific elements (multi-directional knitting, mitres, a simple edging, easily-memorized lace rip pattern, and of course the v-neck cardigan). Not as wild about set-in sleeves, but I can live with those. They really do help with the structure of the thing, and I honor that this annoying-to-seam feature does result in a better garment.
Buttons will likely be something vintage from the batch my mom sent me. But I don't have to worry about those until it's nearly done.