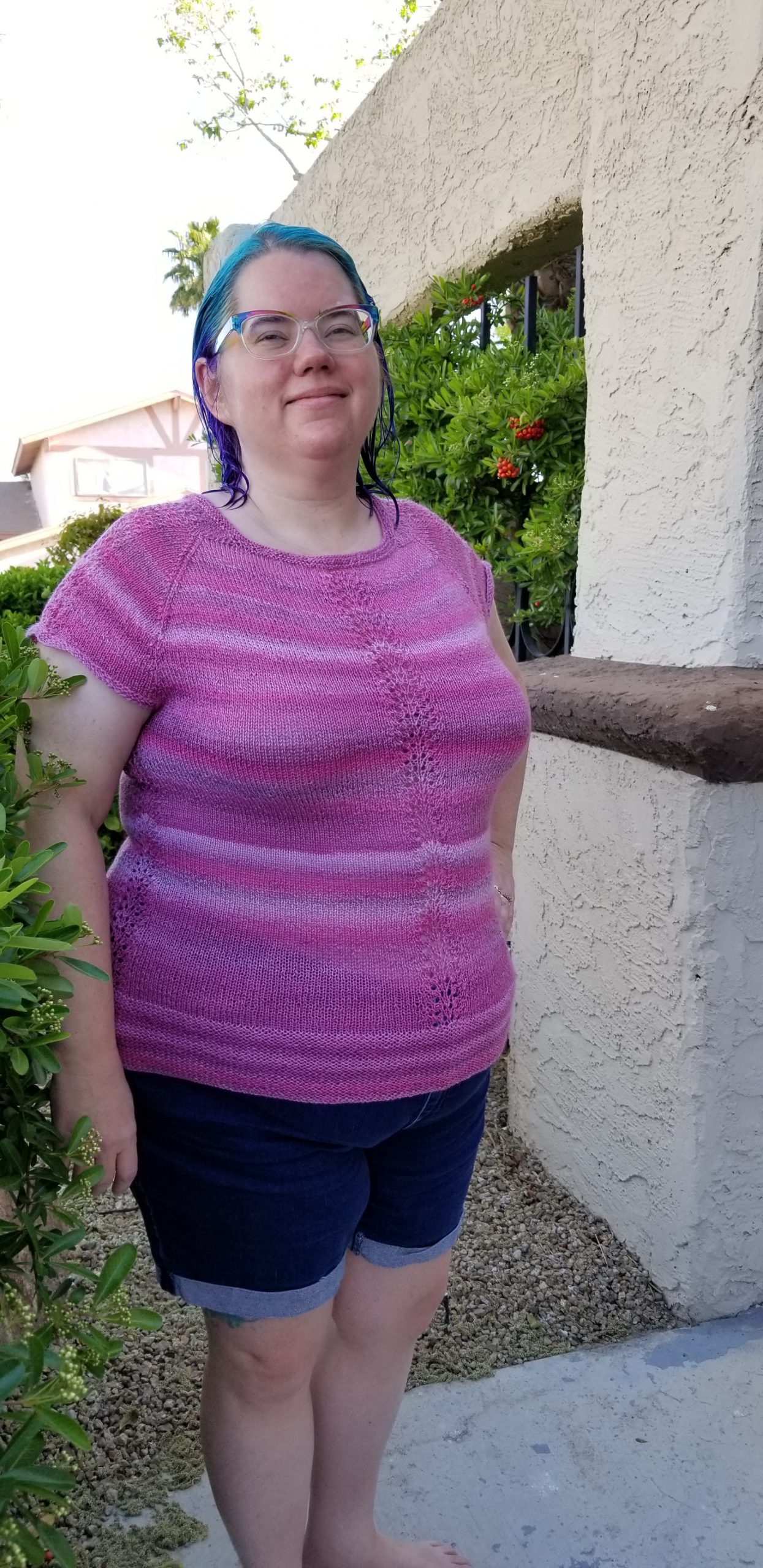 In March, 2019, I went to Toronto for BreakoutCon. While I was there, I went for a nice walk in the rain and bought 2 balls of pink variegated fingering-weight yarn (Knitting Fever Painted Desert in color 104: Rosefield). I put them in the stash and periodically thought about what I might want to make with them. Sometimes I was tempted to just pull them out and make Yet Another Shawl Already, but I resisted the urge because I have a dozen shawls.
Last month, I finally cast on for a project which I thought would use just about the 2 balls of yarn. It's a sleeveless raglan top (Simplicity 2 Ways by Jeannine Hoeffler) that is "reversible" in the sense that the front and back are interchangeable. It uses garter stitch for the edgings.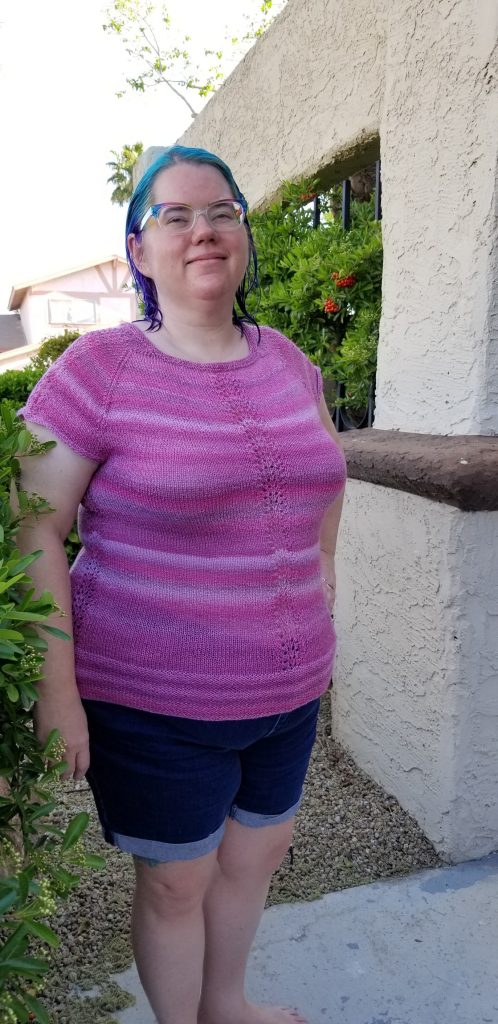 It's knit from the bottom up, and when I got to the shoulders, I ran out of yarn. My options at that point were to use a different yarn (which would contrast and maybe not in a good way), frog the whole thing and use the yarn on something else, or buy more yarn. I searched online and found just one store that still had this yarn in stock, but of course I had no idea if the dye lot would match. Since it's variegated, it's entirely possible to not match but be imperceptible– or it could match and be really jarring. I bought it and hoped it would be close enough, and intended to overdye it if it didn't look right.
It arrived last week. 2 years and a completely different store and even country, and the yarn is the same dye lot. I was very pleased.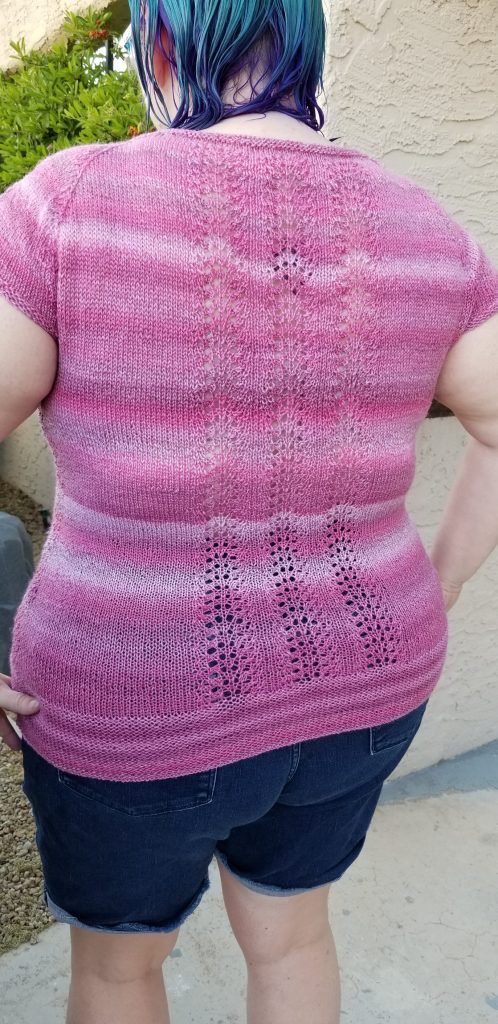 I made a few modifications. I went down a needle size when I got to the waist, then back up, to give it some subtle waist shaping. At the top of the shoulders, where it's supposed to turn into the neckline, I added a dozen short rows so the neckline wouldn't be so wide it would expose my bra straps.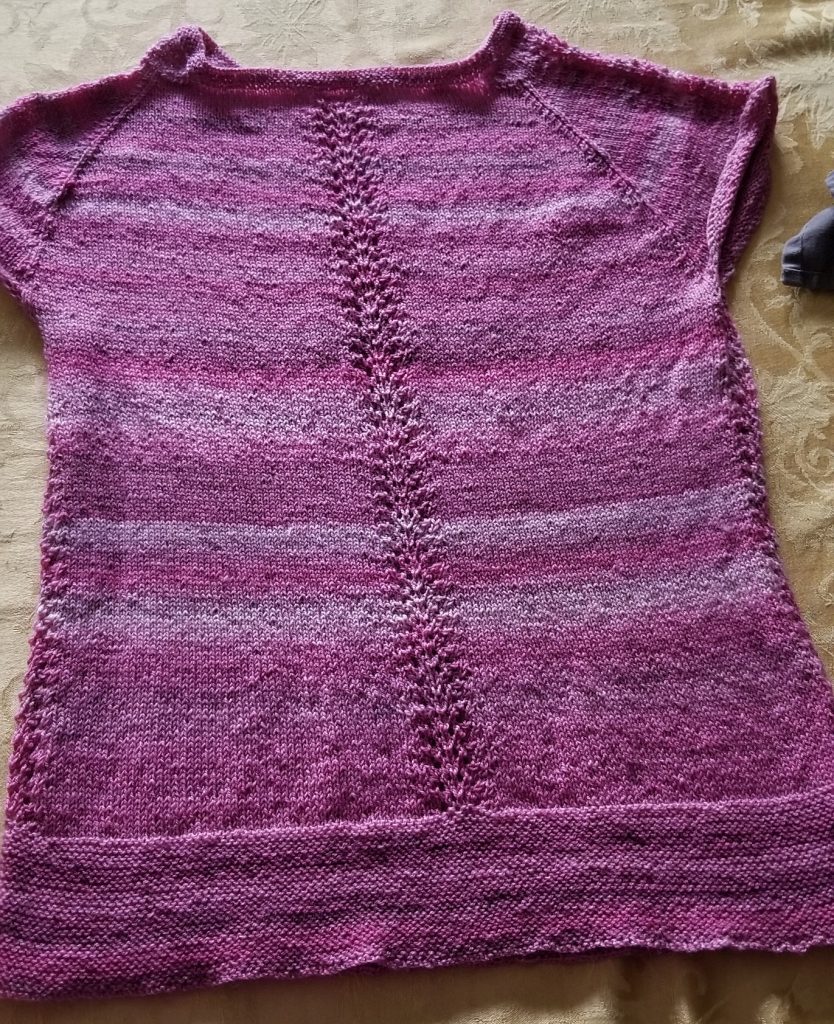 When I was all done, I hated the bottom band, because it was kind of short, and flipped up (because of how stockinette curls, and because garter's gauge is larger than stockinette). You can see that in one of the WIP pictures. So I cut that off, picked up the stitches, and knitted in a smaller gauge for 3 1/2″.
I am pleased with the result. This top looks great, like it was custom fitted for me, because it was.