For #nerdy9th. Rules of #nerdy9th are to gush about something you are nerdily passionate about, and no criticizing or denigrating that thing (even in comments)
I learned to crochet when I was about 5 or 6 years old, taught by my godmother. But I didn't learn to spin yarn until I was 30, and I didn't learn to knit until six months or so after that.
Today, I am a spinning and knitting machine, I tell ya! And here's a little project I want to share, because it completely resonates with the fiber nerd in me. It's a condensed version of a sheep-to-shawl challenge. In essence, I have a few ounces of fiber, a drop spindle, knitting needles, and a nice little pattern I think will look good in handspun laceweight yarn. And time. I have some time. Not much, mind you. But I have enough that working in chunks of 5-10 minutes here and there is sufficient, and this project is perfect for "I only have 5 minutes" moments.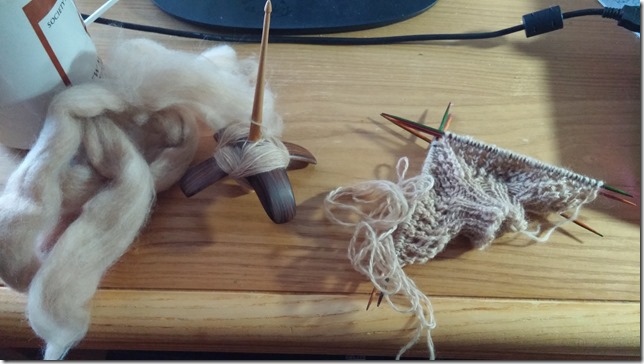 In essence, the process has been:
Spin a spindle-full of yarn.
Pull it off the spindle.
Ply (on the same spindle).
Pull the yarn off the spindle.
Splice the yarn in using a Russian join.
Knit until the yarn is nearly gone.
Repeat from step 1 until the pattern is complete.
The Fiber
The fiber is a camel/merino blend. I bought it 5 years ago at the Madrona Fiber Arts retreat, which is an excellent fiber retreat over Presidents Day weekend in Seattle, Washington. I highly recommend it to any fiber fan, whether you spin, knit, crochet, weave, or just want to learn.
It's soft, lightweight, and spins easily. According the The Knitter's Book of Yarn by Clara Parkes (a highly recommended book for every fiber nerd), camel fiber does not felt easily– one of its properties that makes you realize that, indeed, it is a different species of animal from wool. Camel also doesn't take bleach easily, so it's usually either a natural tan shade, or it's been dyed. Natural-toned yarn that's been dyed is usually a richer color than pure white or bleached yarn. I don't intend to dye this project, but I won't completely discount the possibility.
One of the few frustrations I've had with this particular fiber is that it's challengingly short-stapled. That means each fiber is fairly short, so they don't keep the twist particularly well, and more importantly– I have a very hard time spinning a long piece of yarn before I either wind it up onto the spindle, or it breaks and I spend a few seconds muttering obscenities while I pick up my drop spindle (aptly named) and carry on.
The Spindle
The spindle is a Turkish drop spindle by Ed Jenkins. It weighs .9 ounces and is made of rosewood. It's small– probably about 5" long. I also bought it at Madrona, and it is my second-favorite spindle, after my Golding spindle.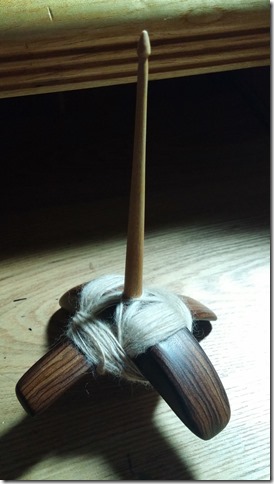 Turkish spindles are interesting. A standard circular whorl spindle looks like a child's toy top. On a standard spindle, when you are done spinning, you unwind the yarn, sometimes by spinning it onto another spindle or spool. In general it's a longer process that is hard to put down in the middle.
Turkish spindles have an odd cross-piece shape, but what they do is downright magical. To remove the yarn from the spindle, you pull the center shaft out (through the base– the shaft is tapered), then slide one of the cross-beams out from the other.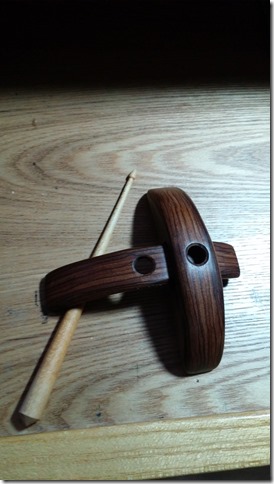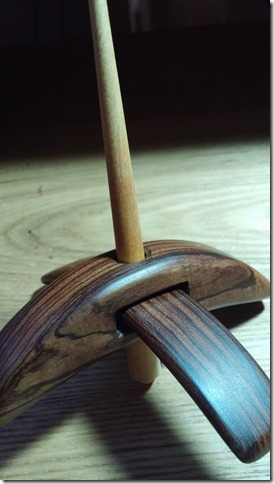 The resulting ball of yarn is ready to be knitted from directly, if you so wish, because it's already in the form of a center-pull ball!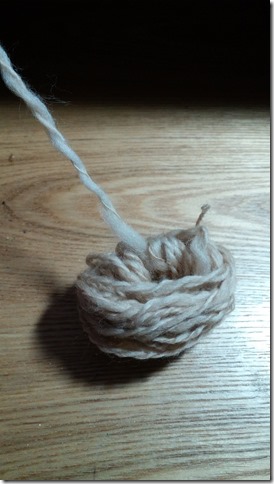 You can also do as I have and take both ends of the center-pull ball and ply them together to make a 2-ply yarn. Since the plying takes place on the same spindle, once again, you end with a center-pull ball.
The Knitting
The pattern I chose for this little project is a French lace cuff. It's a small project, and I was hopeful of getting a pair of cuffs out of it. I knew I didn't' have a lot of fiber, though, since I had already made a scarf out of the same fiber, using the same spindle and technique (spin, knit, spin more, knit more).
The cuff is easy and easy to memorize. I did have to pause when I found myself out and about, finishing the last row one can do on size 1 needles, and not having a set of size 8s on me. Ah, well– out came the spindle, to catch up on the spinning!
The effect of knitting straight off the spindle is that the yarn has a lot of energy when it goes into the piece. It's lively and moves around a lot while you're knitting and afterwards. The stitches do not idly lie down in an orderly fashion, but instead have a kind of dynamic quality that I rather like. Slanted stitches slant even more than usual, and in general, I like the lively way the knitting comes out.
This project will likely be done and off the needles by the end of #nerdy9th. I'll update the post tonight once it's done.