Pun intentional.
This week, I finished a project that was 4 years in the making: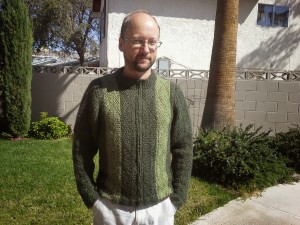 This is John's handknit sweater, made with Wensleydale Longwool, a long-staple wool I bought in England in 2009. I started knitting at the end of October that year, and knitted on the drive down to Las Vegas when we moved here that November.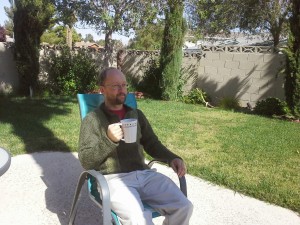 The pattern is Andy, which is a nice men's sweater pattern from Knitty. John did not pick the colors– I picked them out when I was buying the yarn. I settled on 2 complementary colors because there wasn't quite enough of the dark green for a full sweater.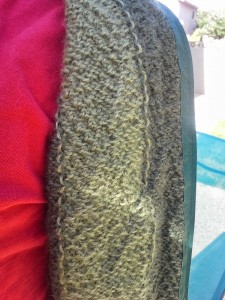 As it turns out, the amount of wool I bought was almost exactly perfect for this pattern. I am personally proud of the fact that, on every single row, I remembered to wrap my colors during the color change, so there are no gaps. It's truly a beautiful work.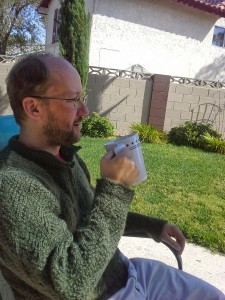 About a year ago, I was working on this project and I had passed the part where you separate the front and back at the armholes. Somewhere along the way, I made a mistake, and the pattern in the back was, well, wrong. Not very wrong, just wrong enough that it didn't quite line up the way it was supposed to.
I finished the sweater anyway and bound off. But I wasn't satisfied. It's one thing to have a little mistake, but this looked like a blip in the matrix.
About a month ago, I sucked up my pride, frogged the back, and re-knitted to fix it.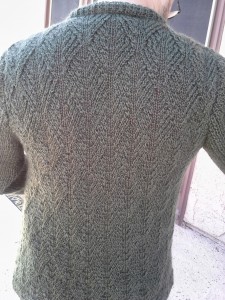 Fortunately, after that was done, I tackled the sleeves, and they went along at a nice quick clip, first one then the other.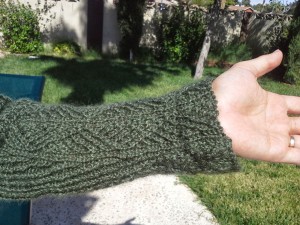 One of the hazards of taking so long to finish a project is that John's body has changed somewhat– his waist has decreased, and his chest has increased. As a result, the sweater was a bit snug around the chest. It would stretch, sure, but it also would be nice if there was a little extra ease in it.
When we discovered this, I was initially thinking I would need to knit a border along the center line or something, and my brain was trying to calculate how best to do that, all things being equal. Mostly, my brain was screaming "ARE YOU INSANE?!?"
John found the TechKnitting blog's post on underarm gussets, which add a small amount of ease (in this case, about 4 inches total) to a project. Because the front and back were knitted as one piece up to the armholes, I did have to cut about 2 inches on each side of the body of the sweater. I used my sewing machine and made tiny steeks for the gusset pieces. I think you can hardly tell they're there– what do you think?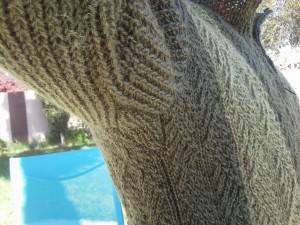 The final, hair-tearing bit in finishing was the zipper. After everything was blocked and seamed, the collar-to-hem was 22 inches long (perfect!), so I only needed a dark green separating zipper. And the talent to install one.
I hemmed and hawed for about a week before buckling down yesterday and machine-basting the zipper in. Flawless. Then, I unzipped it and stitched it into place, folding and tucking the extra bit at the top and making sure everything came together.
However, because the repeating pattern has uneven "pull" horizontally, the edge is somewhat "wavy" even when blocked. As a result, there are a few little spots where the zipper catches or where the fibers of the yarn are a little too close and can get caught in the teeth. Over time, these will wear down and fall out, but for now, I handstitched a few of them out of the way, and called it done.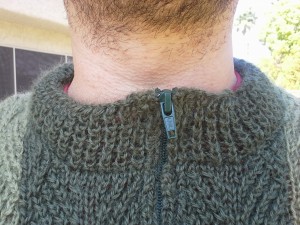 As anyone who has seen my weather scarf, or any of the dozen or so shawls I've knitted over the years, I am not averse to spending time on a knitted project. But it's nice to be done with something, especially when that thing has taken such a long time to finally come to fruition.
I love you, sweetheart, and I show my love for you in yarn.