I always feel like casting on something in the morning. Not because I think I'll finish by the end of the day, of course, but because I have that creative "let me try this now" energy shortly after i get up.
With that in mind, you would think this post would be about the cute thing I cast on this morning, but it's not. I have something I'd like to cast on, but my spare yarn, the bits and pieces I have left over from other projects, is sitting in the basement, and I'm inside still wearing my nightgown. I try not to show my butt to the world before 5 PM, so I'm going to stay indoors until I get motivated to get dressed. At which point, I'll have other things to do, and I'll forget all about the leftover laceweight I wanted to try. Until tomorrow morning, when I go through this cycle again.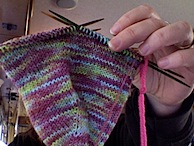 At Stitches, I bought some yarn (ok, a lot of yarn– nearly all of it sock yarn), including this Auracania (yes, like the chicken) that I'm knitting into a sock. It's green and raspberry and blue– very pretty, and "Jane" picked it out as being for her socks. I'm knitting these toe-up, using Cat Bordhi's New Pathways techniques to make something a little different this time.
On Monday, I frogged the drop-stitch shawl I'd been working on and cast it on again. This time, I split all the yarn into dozens of small balls of yarn, which I'm switching around a lot, so there will be more color variation in the shawl than I initially had: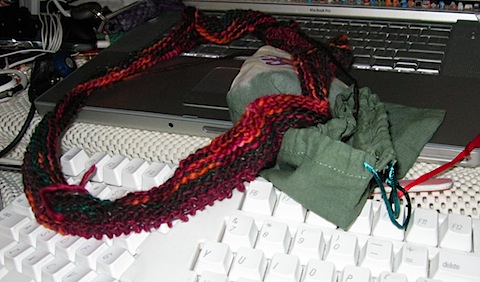 Finally, this is some of the too-much-sock-yarn that I bought over the weekend: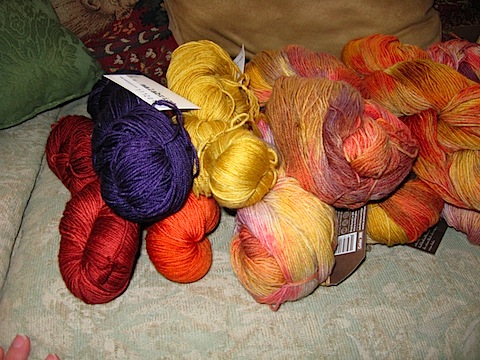 The multi-colored is 7 skeins of Auracania. The solids are 4 skeins of Malabrigo sock. Together, they will all form a beautiful, colorworked sweater for ME.
I learned through this process that I gravitate towards the same colorway over and over again:
The rich yellows: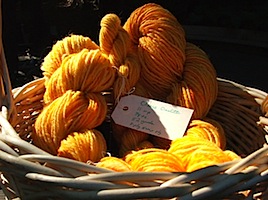 Combined with this deep violet-blue (photos never do justice to this color– it has more purple in it):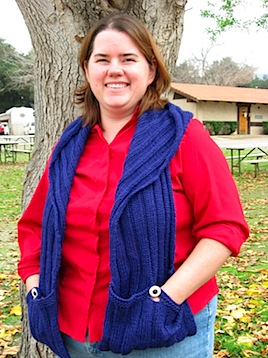 And combining them with a orangy red: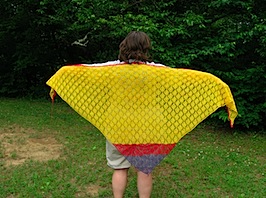 I have other colorways I'm attracted to (blue, light blue, and green together, for example0, but lately I've noticed that this hooded scarf and shawl really go well together, and when I finish this sweater, it can be added to my "bright and bold" wardrobe and fit in very nicely indeed!