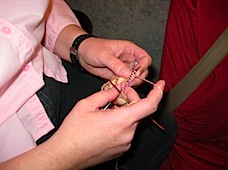 I'm almost done knitting the Sonrisa Socks, and have arranged a test knitter for the pattern, which I now plan to publish. OMG. Me. Publishing a pattern. That I wrote. Wowsers.
I like designing sock patterns, though, because you have two chances to get it right while you're making the pair. So, I wrote out the pattern before I started, I knit the first sock, then I wrote out the pattern as I had knitted it. Then I knit the second sock. The next step, after finishing the second sock and photographing them before sending them off, is to grade (resize) the pattern and knit the socks again in a different size. That's going to be the big challenge for me, because I don't know too many women with greatly varying foot sizes. However, I am confident that I can make it work.
Meanwhile, the lace patterns I've been working on since July are languishing. I took one of them out recently, though, and might get back to knitting it soon.
John took pictures of me knitting yesterday, so we could show Marc what it looks like when I put "she's knitting a sock" into a script.
And here I am, posing with my socks-in-training and my messy recently-pink hair: