Because I am tired and have a cold and because we have a bunch of stuff to do tonight before we take the RV to be serviced in the morning, I'm just going to tease you about the launch.
We got out to the Space View Park park this morning at about 9:30 and set up our chairs and a sunshade. We sat around watching while hundreds of other people showed up. When we arrived, there was a 70% chance the launch would be delayed due to weather. Those odds only got better and better as the skies cleared and winds, though variable, settled into a decent pattern. The shuttle had a 10 minute window for launch, and they were set to go right in the middle of it. If they had had to delay more than a few minutes, they would have to delay the launch until tomorrow.
It was a textbook launch with absolutely no problems (at least, none broadcast to those of us on the ground). Gorgeous.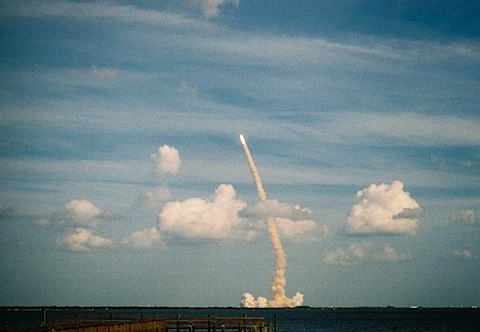 John and I took many photos and John shot video of the launch. We will post them soon. I promise!