This is a picture-heavy post: forgive me. It's been a while since I posted….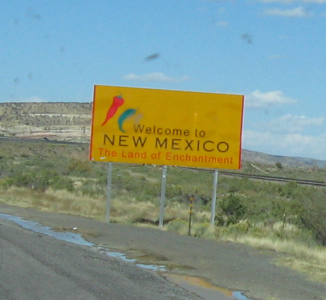 We got into Albuquerque on Wednesday evening, pretty late. When we pulled in, it was after dark, and we just wanted to have dinner and go to bed, as tired as we were.
Thursday, I spoke at the local STC chapter, which went really well– sold a couple of books and was kind of "in the zone" with explaining what videoblogging is and why it's important to technical communicators. Thursday evening…. was bad and drama-filled, especially for my friend whose driveway we were parked in. I don't want to get into many details, but the short version is that the police and paramedics were called for the neighbor. We went out for dinner to a really bad Italian place, and after all the drama, everyone came over to the RV for leftover cheesecake from the meeting. John got sick right before bed, which was unfortunate, but seems to have been temporary, thank goodness.
Friday we worked and waited for the post to arrive, which it eventually did. In the evening, we took ElegantElbow out for dinner at Pai Mai, and then went to a Haunted House, which was lots of fun– I got very scared! We were pretty wiped out after, and went to bed at a normal hour.
On Saturday, we poked around, then went to the Albuquerque Balloon Fiesta. This is pretty much The Big Event in Albuquerque for the year– it's what they're known for, and I was really looking forward to it. I finally remembered to bring my camera with me that night….
Our hostess, ElegantElbow– a friend of mine from college::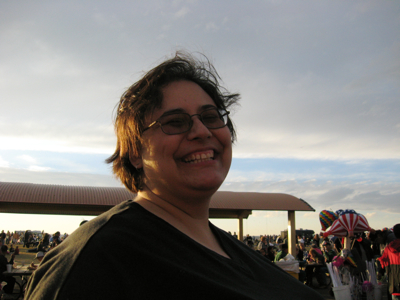 A really lucky shot of the sky near sunset!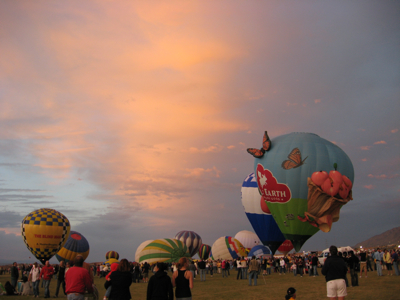 Me and John in front of a balloon!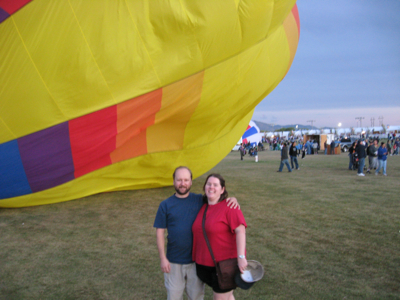 What the balloons look like when lit up. They light up by the fire that heats them (hence hot air balloon), and as a result they glow at night: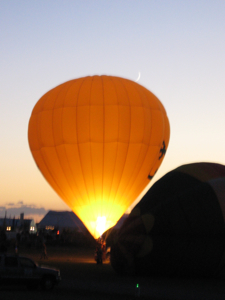 They do a countdown so everyone will synchronize their burns: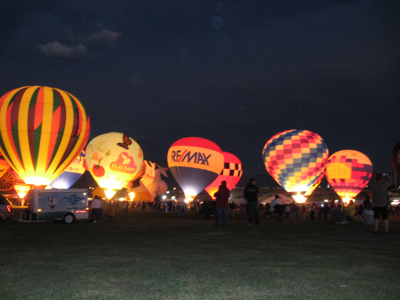 Finally today (Sunday), we headed out early.
We decided to trust the GPS and Google Earth which both said that going through Denver was not the fastest/shortest distance to my mom's house, and so we are now in: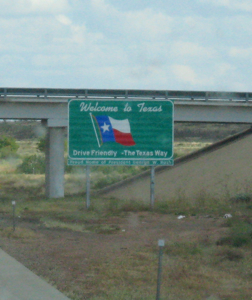 TEXAS! I know, I know. But we're actually right now so close to Oklahoma, the only TV station we get is showing the Oklahoma 100-year birthday celebration (happy birthday, OK).
Here is my only other photo of Texas so far. Texas is home to the LARGEST CROSS IN THE WESTERN HEMISPHERE: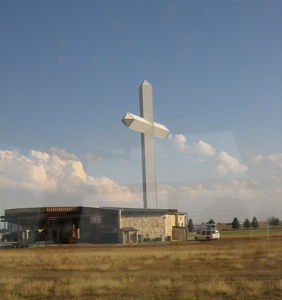 Who knew? Oh, sure, you could have guessed, but did you actually know? I didn't think so!
Anyway, I am now returning to knitting, reading email, and drinking a beer. Life sucks. We're here till Tuesday.