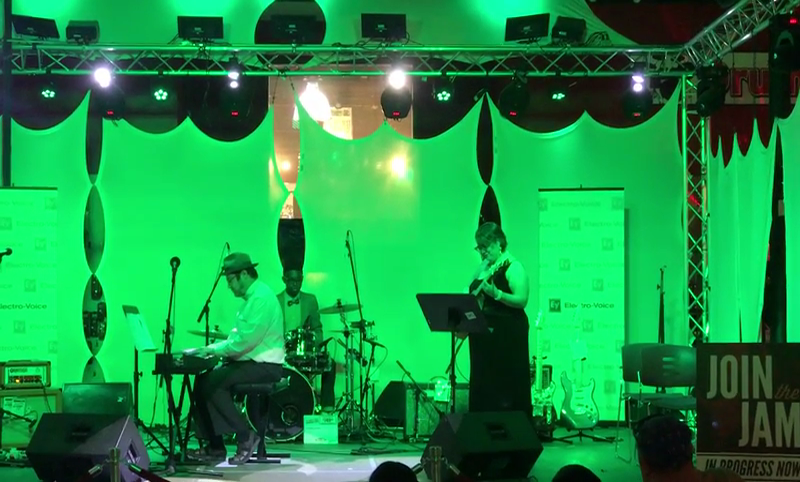 Post-surgery, I was barred by doctor's orders from lifting anything more than 10 lbs, including my bass guitar. Not a problem– I got a bass ukulele for travel at my birthday, so I was back to bassing as soon as I got home from the hospital!
Before I went in, I'd talked to my bass instructor and decided to perform the Vince Guaraldi Trio version of "O Tannebaum" (you may recognize it from the Charlie Brown Christmas Special). This is a piece I've performed on the piano in the past, and was glad to have the opportunity to play it on bass.
The bass line arrangement is by Paul Snyder, my instructor. Andre Anderson is on drums, and Tobias Strauss is on piano. I wasn't happy with the idea of just performing to a backing track, so I recruited Toby to play the piano with me, and then roped Andre in for what is probably an easy drum part, but he makes it extra hot (I think the prospect of getting to use the brushes was very appealing!) I even convinced them to wear ties and got myself dolled up in a floor-length black dress.
This was probably "overkill" for a student recital, but I really don't care. I'm in my 40's now. I don't need to be performing on the same stage with 6 year olds rocking their first etudes for their proud moms and dads. And yet, I'm proud to share that stage– it makes me happy to perform, happy to bring my "A game" to even the smallest venue. And happy to sit through the rest of the performances and clap for every kid– big or small– who put on their brave face and went up to show us what they've got.
That said, this may be my last recital. I may focus on the rock band in 2017, maybe switch to the jazz band in a few months, and look for other opportunities to enjoy my music in an ensemble.