I came home from a convention this weekend with a sore throat and promptly drank the last of the Yogi Throat Soothe tea. Which was awesome, but my throat started hurting again 2 hours later, and although it improved a little, it was still sore today.
And then I remembered that Amazon Prime Now exists and became available in Las Vegas last week. I installed the app and checked it out.
My tea was in there for about $5/box (that's comparable to buying it at Whole Foods). When I went to check out, the app let me know that the minimum purchase is $20, so I ordered my daily moisturizer because I had just finished the bottle, and, still $2 short, a $2 bag of "health brand" peanut butter pretzels.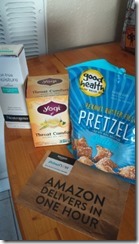 The pretzels were the only real impulse buy item– everything else would have been bought eventually, at the grocery or drug store. They would have been bought at separate places, however, and not conveniently in the middle of my workday.
There's a line for a tip, and a note that you can change the tip up to 48 hours after delivery– and that 100% of the tip goes to the driver, which is awesome. I placed the order at about 11:30. The bag was delivered at 1:45 by a prompt woman who introduced herself by name and said she was with Amazon Prime Now. She made sure to confirm my name when handing over the bag.
All was well. I shut the door and promptly logged into the app to tack on an extra buck to the tip. Before it arrived, I was thinking 20% was reasonable. After, I thought "what the hell. This woman just brought me shit in the middle of my workday. I didn't have to go out and run an errand. And she's awesome for having done that!"
This is the kind of service that is going to make middle class white people stop going outside, but it was really, super handy to not have to run out to two different places to get the tea and moisturizer. It was super handy to not interrupt my day to buy tea– I wish I'd thought of this yesterday, when I was really uncomfortable and just didn't have spare time or energy to go shopping.
It's definitely a tool of privileged people– you don't use this if you can't afford to kick a few bucks over for the tip, or if you really need to go below retail for prices (Prime Now doesn't appear to beat Amazon's low online prices).
It would be completely worth it, however, if I lived in a food desert, where a $5 tip offsets the time and money it would cost me to get out of the food desert and find a grocery store. It's worth it when you're sick and just don't even want to move off the sofa. It's going to be worth it some night when it's 2 AM and I'm crying and need chocolate so much it physically hurts not to have it. It's going to be worth it when I'm working a really long day and I only need one thing from the store, but I can't deal with the prospect of standing in a thirty minute line at the grocery store at 5 PM. It would be worth it if I had small kids at home– sweet Jesus, can you imagine not having the wrangle fussy toddlers just to get that one box of cereal that they won't live without (and have the bonus of not having to take them down the Checkout Aisle of Sugar And Tears)?