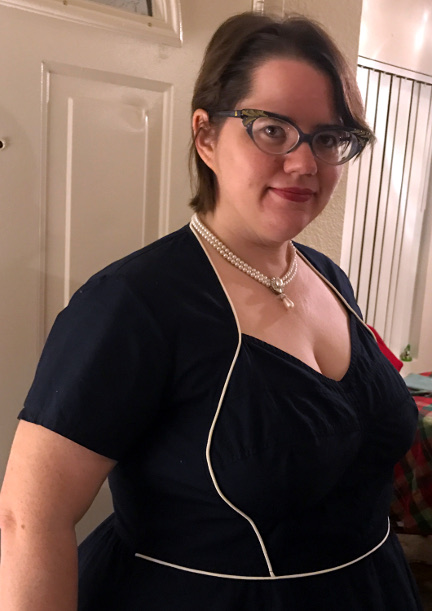 As you know, I'm a short curvy lady whose wardrobe waffles between "Nice t-shirt" and "are you cosplaying something?"
The last month or so, however, I've been longing for some dresses that fit well enough to wear casually, but which aren't specifically "party dresses."
However, thanks to a medical condition, genetics, and not spending a lot of time on Arm Day at the gym, my top half averages about 2 sizes smaller than my waist-and-hips. My shirts can be bought in the "women's" section, while my bottoms have to come from the "plus" section. That makes buying dresses difficult at best– if they fit the waist, they slide off my shoulders. If they fit the shoulders, they're tight at the middle. And they are always either too long or too short– being 5'1″ means never having a knee-length dress.
I make a lot of my own clothes, of course, and I can alter a lot of things. But sometimes it's nice to not have to do that, not put in the extra time, or a garment will be made in such a way as to not be practical to do so.
Enter eShakti, an online clothes store that custom-fits clothes to your measurements. You measure at home. You upload the measurements to the website. You order clothes. For the first order, custom fitting is free– after that, it's $9.95 per item. Most dresses have customizable sleeves, skirt length, neckline, etc.
Their sizes go up to a 36 women's, which is a 59″ waist and 69″ hip. With the custom-fit options, you can pretty much accommodate most "unusual fit" requirements, such as wide shoulders, small bust, larger caboose, etc.
Here are pictures from the party dress I bought. I'm wearing a crinoline under-skirt,because I'm heading out to a party, but these crisp lines and piping really flatter when they sit at the right places on my body!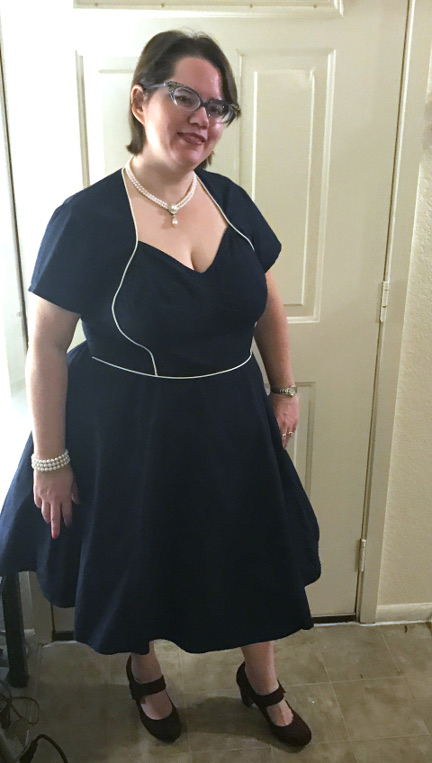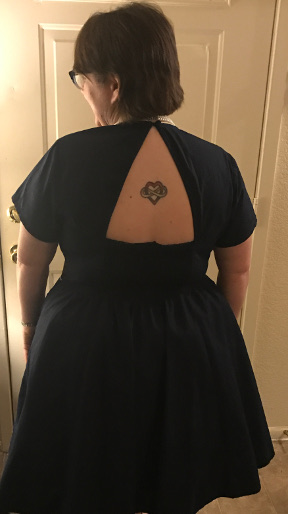 The skirt fits well, and the top is like a well-fitted glove. For reference: I had more trouble with my bra straps sliding off my shoulders than my dress fitting! Normally, my shoulders are sliding around quite a bit!
I also bought a basic black dress with elbow-length sleeves and a v-neckline, for more casual wear: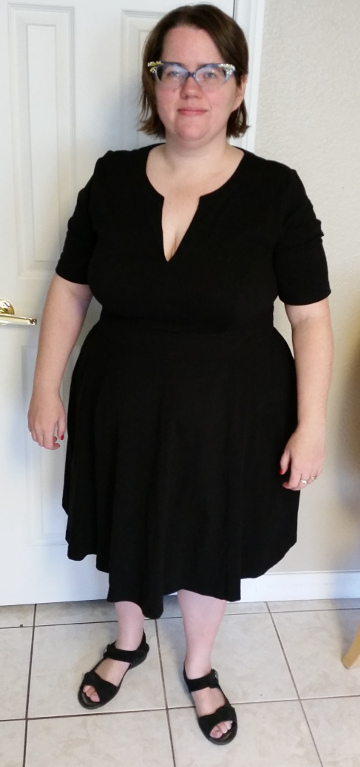 The navy blue dress is a woven cotton (poplin?) that did wrinkle in the laundry. A quick ironing fixed it, though. The button loop on the back pulled out after a wash and wearing, but is easily fixed. The rest of the dress, seams, hems, manufacture in general, is quite good, and the fabric is thick enough that I don't feel like it's about to fall apart while I'm wearing it. It has a side zipper that is frankly superfluous– the back is elasticized and is easy to slip over my head (if my bust were larger, I would probably use the zipper.)
The black dress is a cotton knit, and very comfortable. It wrinkled a little bit in the wash– enough that I ironed it, but not enough that I would do so every time. It has a back zipper that I don't find I need– again, a larger bust or a narrower neckline would change that. Again, the fabric is thick enough that I don't feel like it's going to wear thin quickly.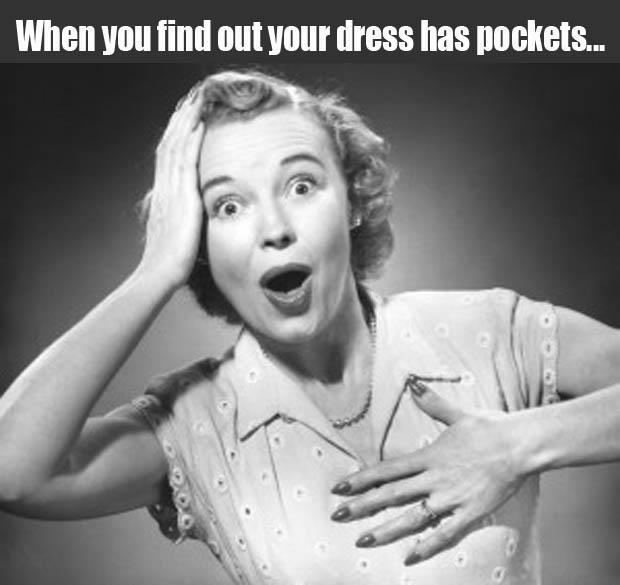 But perhaps the most important thing (aside from custom-fitting!) is that, so far as I can tell, dresses on eShakti have pockets by default!
And these aren't tiny half-pockets like you get in some women's jeans! Nope! These are cell phone-holding, full-hand deep pockets along the seams! There's an option to remove the pockets if you really want to, but it's a customization choice– not something you just have to live with. That navy blue dress? POCKETS. I took a purse with me to the party, but I could have gone with just my wallet and phone– in my pockets!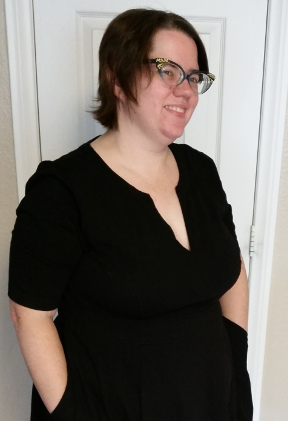 Typical cost for a dress at eShakti is $50-80, with discounts and credits back available. The dresses come from India, and the company has a statement about their wage and labor practices on their website, which makes me feel better about getting such a bargain on a custom-fit dress!
Sponsorship note: eShakti did offer a discount on my next order for talking about their dresses online. They didn't commission this review, which I was planning to do anyway, because I like to share good finds like this, and they did not give me any free products.