A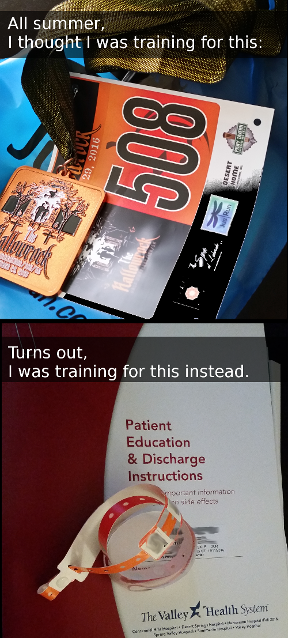 ll summer, I have been going to my local Planet Fitness, 2-3 times per week. I've been lifting weights with my arms and upper body. I've been doing leg presses to strengthen my thighs. Every time I worked out, I hit the ab machines, because my core muscles (abs and back) have always been very weak.  I was also doing a long run once a week on the weekends (before it got too hot), gradually nudging the distance up until I was doing 5 miles at a stretch.
And it was working! I increased the amount of weight I was lifting, showing improvement and getting to a point where I helped carry heavy furniture upstairs without getting winded.
I thought I was training for a 10K*. I thought I was working out so I'd be strong and agile enough to wear stilts as a costume.
On Friday, the surgery put a halt to forward progress, but really showed me the reason I was training all summer. On Saturday, I was helped out of bed for the first time, and I discovered that my strong arms helped me lift myself up to a sitting position. My strong thighs helped me go from sitting to standing without "lurching" to get up.
And my abs! Oh, the sad part is that the surgery has left an enormous incision down the center of my body, a rift which will take a long time to heal. But thankfully, I am already more able to get up and down and walk around and bend over to pick things up because my back is stronger than ever, and my obliques (which are not affected by the incision) are strong, too!
I went home on Sunday because I could get up, walk around, and use the bathroom independently. I wore a seatbelt in the car, held loosely over the incision. When I got home, I walked up the stairs and have been going up and down stairs every day since.
There's no doubt in my mind that if I hadn't been working out all summer, I would have been in that hospital bed on Monday morning.
When I'm cleared for exercise, I'm going back to the gym and back to the trails. I'll be joining everyone else starting a fitness regime at the start of the year, but I don't care. I'm grateful for this body, and I'm grateful for the gift I gave it this year of being fit enough to handle a pretty big setback.
* I did the 10K on October 29th. Finished in just over 2 hours, though I ended up going extra distance for various reasons, and wound up doing 6.5 miles instead of the standard 10K.