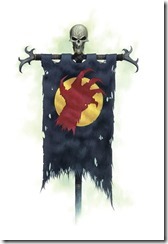 In April, 2011, my first non-Organized Play campaign in Las Vegas came to an end just days before two of our players had their first baby, thereby changing their availability from "free every other weekend" to "hahahaahhahaha, you have got to be kidding."
We had been playing D&D regularly for over a year, either a 4th edition Living Forgotten Realms campaign, or a 3.5 campaign of Red Hand of Doom. The game was going pretty well. We started out with 2 players, so I had 2 characters to accommodate for the low number of PCs.
For our final session, we had eight players, including a few who had been "drop in" players throughout the campaign. We started at noon, and wrapped up at about 7 PM with "OK, we're going to have to let Tiamat fly free, because we've been playing for 7 hours, this is the last session, and I don't want to play another 3 hour fight."
It's probably not the longest session I've played, but it's pretty danged close. And it's certainly the longest session I've played since crossing my 30th birthday.