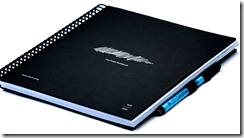 OK, so I still don't own an All Rolled Up yet, and the rest of my accessories are fairly standard things like pencils and index cards. However, even though the Kickstarter was mismanaged and resulted in missing out on some key stretch goals (notably the post-it-sized cards, which I really really wanted for games), my Letterforms dry erase notebook is high on my list.
It's 24 pages of blank dry erase pages, with 4 subtle grid-lined pages in the back. The cover is solid– it's a very heavy cardstock that holds up well– solid enough that I use it like a clipboard. It comes with a single Staedler fine-tipped dry erase marker. I wish it had come with 2 dry-erase markers as promised, but it's not the end of everything. The fine-tipped marker dries out quickly and has to be re-capped a lot during games and such.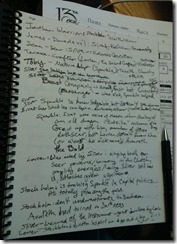 I backed the Kickstarter for $30 (including shipping), and the notebook today is available for just $18+shipping. There are passport and mini sizes, so if you are a "dry erase index card" kind of person, you can get a 4×6 notebook and your kit will be fairly portable.