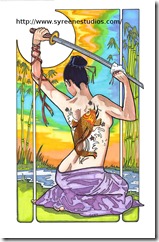 I really don't have one (I don't look at RPG art very much), so today I will highlight an illustrator whose work I really like and want to own, Emily Vitori, aka Syreene, whose work can be purchased on a nice T-Shirt here. I like the art deco/stained glass look of her artwork.
Emily does commissions, and although I've yet to scratch together the kind of money it would take to afford one, someday I'd like to have some custom art from her.
I don't have a lot more to say about Emily's stuff. It's beautiful, and you should totally check out her portfolio.