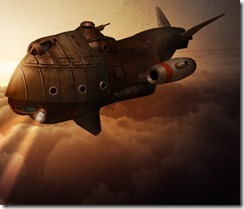 This honor still goes to Lady Blackbird, John Harper's excellent little game about the adventures of runaway bride Lady Blackbird and the crew of The Owl.
First, the game uses an excellent, lightweight dice-pool mechanic for simple conflict resolution. Second, the document is gorgeously designed and laid out. Third, the story has just enough hooks and ideas to make a compelling adventure.
The supplied adventure works best in a 2-3 session format. I've played it once and run it once, and in both cases, the third session felt like it was ready to close out the game. I think it would play differently if the Lady weren't played by anyone at the table, but overall, it worked as a storyline.
Finally, there are a ton of Lady Blackbird hacks out there! Want to play Lady Blackbird as an alien abductee from an American trailer park? That can happen!
But that's not all! John Harper has a Patreon, where he's been stealthily creating and releasing more adventures in the Wild Blue! Oh, yes. Lady Blackbird's initial adventure isn't the last tale to be told, if you want to continue the story.