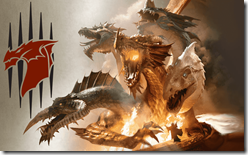 At Empire Games Encounters last night, we ran Hoard of the Dragon Queen, sessions 4 (my table) and 6 (the "level/episode 2" table).
Typically, I take the new players or new characters to run them through part of episode 1. This week, I am down a DM, so I had recruited a backup DM (known as "Dad" in the Epyllion sessions) to help out. However, my backup DM had child care responsibilities, so we also had a "Jr. DM" ("Kiddo" in the Epyllion games) who came and role-played the blue dragon monster at my table.
We also had a 7:30 PM stop time due to the blue dragon's bedtime. That makes a 90-minute session, which is fairly short, even for Encounters.
It didn't matter– we had fun anyway.
Continue reading Hoard of the Dragon Queen – sessions 4 and 6