#rpgaday
My most "old school" RPG that I own is obviously D&D Basic, since it's the earliest/oldest school.
But I also have GURPS, which I never play, but which embraces a lot of "old school" methods and really refined them. Combat is short and lethal and not very fun. There are so many tables of equipment and options, it will make your head hurt (it makes mine hurt!)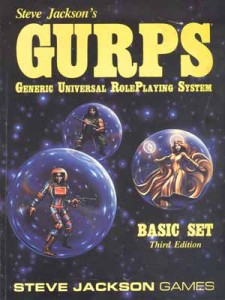 I haven't actually played a GURPS campaign. It's my husband's game, really; although I've made characters, the longest we've played was a 2-shot game of action-adventure heroes, where I played Charlie Baltimore (Geena Davis' character from Long Kiss Goodnight). John loves the game, or did when he was still a gamer, but it's languished on our shelves for quite a while.
Look for GURPs to appear again in "rarest" at the end of the month!