David Champan posted in his blog this month an idea to feature an RPG from your life every day, via twitter or facebook or blogs or google+.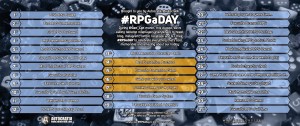 My Google+ feed has exploded with it, and I am jumping on the bandwagon with gusto!
Day 1:  First RPG Played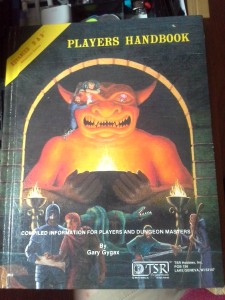 My first RPG I played was, I think, Advanced Dungeons & Dragons, played in the late 1970's or very early 1980's. My dad was my first DM; we used to play on camping trips with my sister and my brothers. I don't remember when our first game was. What I do remember is that I was very young (I was created the same year as Dungeons & Dragons), and people weren't really talking about how to adapt RPGs for very young children. It was still very much a game about fighting dangerous foes and, oftentimes, losing.
I was just barely old enough to write my character's name on his sheet: TOM. I was old enough to roll dice. I was not old enough to cope with the death of my character, and things ended poorly when a green dragon breathed on me before we even entered the cave. Alas!
Day 2: First RPG GameMastered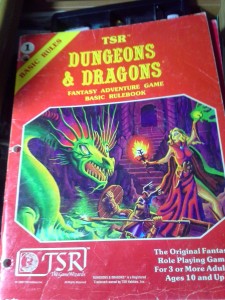 This one is easier to remember. It would be about 10 years after my first gaming experiences before I ran a formal RPG. That said, we had an attic full of costumes and regularly played dress-up and put on skits and generally played variations of make-believe (today, this might be called LARPing). Make Believe was, in fact, the core activity for me and my best friend Holly well into high school, when we switched from Make Believe to co-writing various short stories.
At any rate, one day I sat down with Holly and our friend Jecca and said "let's play D&D! It's totally fun!" I think it was the Red Box basic set, but I might be wrong. I then proceeded to bore them both to utter despair. Holly even fell asleep. I was about 14.
Day 3: First RPG Bought
I am pretty sure the Red Box basic set was the first RPG I bought, which I did at Tom Thumb hobby store in Evanston, where I grew up.
When Dad moved out, he took his D&D books and dice with him, and I know I didn't have my own dice. The Red Box had dice, character sheets, books, etc. I still have those dice and continue to play with them– they were black and red dice. The d20 was white.
The sales people at Tom Thumb weren't very nice to young people– they typically ignored us, which was frustrating because I was always trying to buy things that were behind the counter, like beads for making jewelry.
Anyway, for Day 3, I would like to talk about a specific RPG-buying experience that I never really told anyone. My mom knows about it, but that's about all.