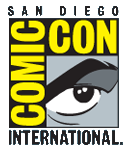 San Diego Comic Con public registration long ago filled up, but they hold a bunch of complimentary badges for industry professionals.
To qualify, you have to submit evidence that you are working as a creative professional in the comics or video game industry. I am, between Handknit Heroes, my work on Digital Manga Group projects, and even my "day job," which tangentially involves video games, albeit video slot machines.
Thing is, you have to plan ahead– you need to submit your work by mid-October of the year before. Which I did, and was approved.
The professional badge registration opened this morning at 10 AM and by 10:08, I had registered myself and a guest for the convention. I have no idea how we'll pay for our hotel room, but we're going to Comic Con. It's a lifelong dream for her, and I'm definitely excited about going, myself.
Don't expect me to cosplay, though. I have enough on my plate right now and don't want to worry about costumes!