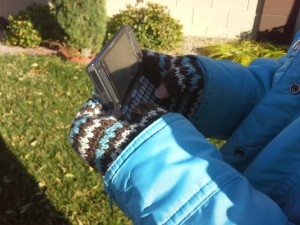 Amid all the other things I'm doing this winter, I finished a pair of convertible mittens for my friend and housemate, Suzanne.
The pattern is the Line by Line Mittens to Gloves pattern, by Knit Picks. The yarn is Louet Gems Sport (brown and teal) and a little bit of Shibui Knits Sock that I had left over.
I used a slip-stitch pattern for the stripes to give them a bit more interest. Each stripe is sl1 k1 around, then k around for 2 rounds. I think they turned out very nicely.
Tomorrow, I will post photos of the finished weather scarf, since I am 8 rows and some weaving-in from being done with that one.