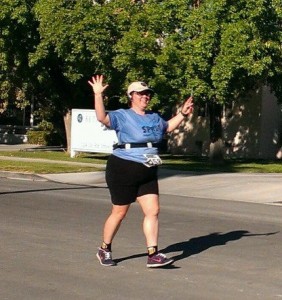 I did the Sprinkler Sprint this morning. Starting time was a little after 7, finished at about 8, but the course wasn't a full 5K so I jogged out the last 1/3 of a mile or so. It was totally fun and awesome, not too hot, lots of super soakers and fun water features to get us all wet and keep us cool!
I picked up my race packet last night. I think this might be the second time, ever, that I've picked up my race packet early (first time was the Santa 5K, but you have to get it early or you won't have your santa costume). Usually I forget, and then I'm trying to figure out what to do with a bag of goodies while I run. Well, I picked it up yesterday evening at the local running store, where I also had my gait analyzed and bought a new pair of running shoes.
Note: I am not crazy enough to wear new shoes for a race. In my photo here, you will see I'm wearing the Nikes I've trained in. You'll also see that I appear to be barely jogging.
Anyway, my pace on this run was pretty damned good– 14:41 minutes/mile. My best non-treadmill pace so far since starting the Couch-to-5K program, in fact.
Here's my race data from RunDouble, in case you're wondering.
The next phase of my training is to prepare for the Glow Run and Zombie Run, both of which are 5K runs in October. I might sneak an actual timed race in there as well. I'm going to continue using RunDouble for my training– there's a "5K improver" program that helps improve your pace/time. I'd like for my hips to not hurt on the last mile or so. And the Nikes will be moved to "walking shoe" status, while my new Saucanys take up their task of keeping my feet happy and injury-free.
Related Posts
Latest Posts
Popular Posts