Attendees: Mike, Jenn, Kinney, and me.
Some Backstory: About a year ago, Reaper Miniatures launched a Kickstarter project to finance their new Bones line of resin-cast plastic miniatures. The project was wildly successful, raising over $3 million– the typical pledge for $100 resulted, after all the stretch goal rewards, in over 240 miniatures. Mike, Scott, and I all backed the project, and then Kinney added on to my pledge for the kit as well.
Well, then I suggested that we need to make a miniatures painting guild, and my friend Jenn said "I wanna paint!" Jenn has painted some of my minis before, and she's been a little bit locked in, raising her daughter and such. We've missed her in the gaming group.
And then, on Reddit's /r/rpg group, someone posted asking if anyone would like a set of Reaper Bones, because he was getting out of the hobby and would like them to go to a good home. I posted this reply:
I, too, backed this kickstarter.

If you pick me, your entire set of minis will be given to a very lovely and talented painter named Jennifer. She is an unemployed CAD/architecture artist, and the mother of a toddler. Until she had her daughter, she was an active and welcome member of my D&D group, and we miss her.

Have you ever spent much time with toddlers? Well, if you spend your entire day with one, the smart part of your brain gets mushy.

Two of my friends and I all backed the Kickstarter, and are starting a painting club. Jennifer wants to join us, and we'll almost certainly let her paint some of our minis, because there are so many of them.

But…. what if I could give Jennifer her own set of minis? How awesome would it be for her to have an enormous, time-consuming, detail-oriented project that would engage her mind and creativity? She could be painting these minis after her daughter starts preschool. Heck, if she finds a job, she could still be painting after her daughter graduates from high school!

As a bonus: Since I'm already a backer, the shipment can be combined to save Reaper some postage.

tl;dr: I would give your minis to my friend to save her from mommy-brain.
In reply, the original poster contacted me for my mailing address, changed the address on his pledge, and all the kits arrived just before July 4th weekend. On the 3rd, I delivered Kinney's set to him, and on the 4th, I delivered Mike's and took him over to help deliver Jenn's: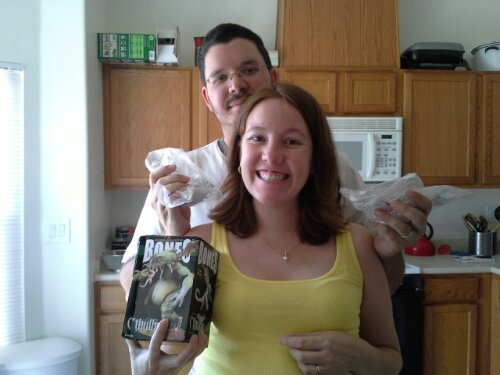 That's Jenn and her husband Jared, holding up just a few of the awesome minis in this kit!
(Not pictured: Jenn's belly, which is currently heading into its final month of incubating her second child, Caleb…. so, you know she's going to have a lot of midnight paint-a-thons in her near future!)
How the First Painting Day Went: Jenn arrived first, and we chit-chatted a bit before unpacking. We spent a lot of time on Show and Tell, showing each other some of the minis we've been working on, as well as my overwhelming number of minis that I haven't even touched or sorted yet. Mike arrived second. A couple of my friends dropped by to visit my mead (it's burbling nicely now), and Mike provided his opinion about my near-overflowing airlock ("leave it alone…" advice I took until the next morning, when it had overflowed the airlock entirely). Kinney was somewhat late, arriving at 3:30 or so, but I'd blocked off the day until 6, so there was no problem with his late arrival.
Decisions Made: I suggested that, since we have 4 sets of Bones at the table (5 when Scott joins us), that we should each pick a color and paint the bottom of all of our minis with that color, so we can tell them apart, even when unpainted. Jenn is adding a red dot to the bottom of each of her Bones. Mike will use lime green. I'm using pink. Kinney is using a reddish-gold that's kind of shiny and metallic.
Lessons Learned: I definitely need to be more alert when my guests express their hunger. My brain in painting-mode is an odd thing– it doesn't "get it" all the time, and I lose track of cues and such. Kind of weird, but there it is. Anyway, next time, I will make sure to put the snacks out before we get started, so I won't have to think about it after my brain is in paint mode.
We also had a short explanation of "basing" minis, which we'll probably get into more next time.
The Pictures:
Jenn's paladin, an aasimar she plays in Pathfinder: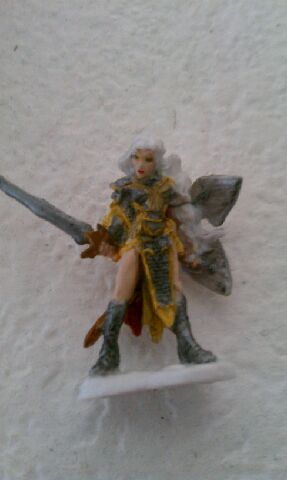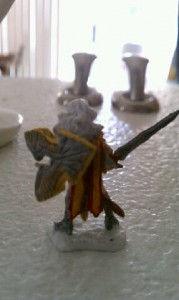 Kinney:
Sells, a human sha'ir who specializes in forced movement and cold spells: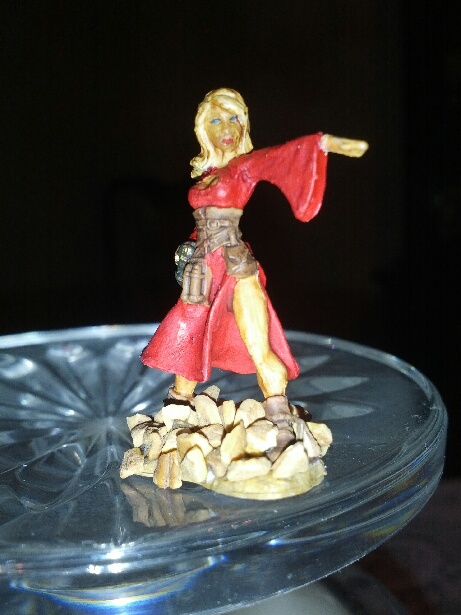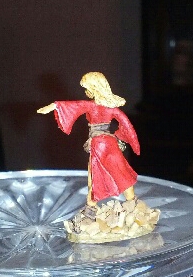 And Sundrina, a drow assassin: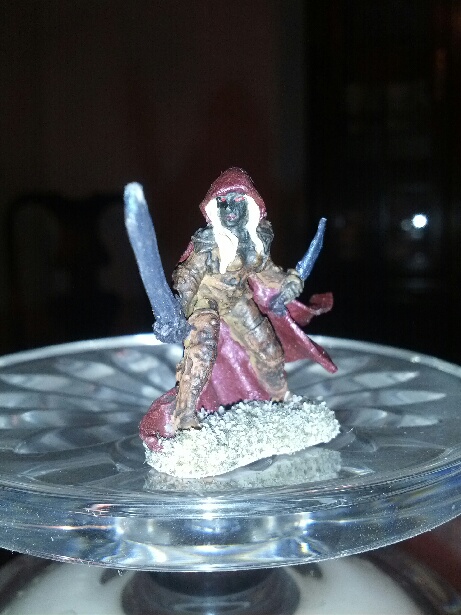 Mike: Not pictured, because I'm lame and forgot to take pics. He worked on goblins from the We Be Goblins group, and familiars, including a cute fairy dragon.
Stephanie: 
Lilith, which is a Malifaux miniature: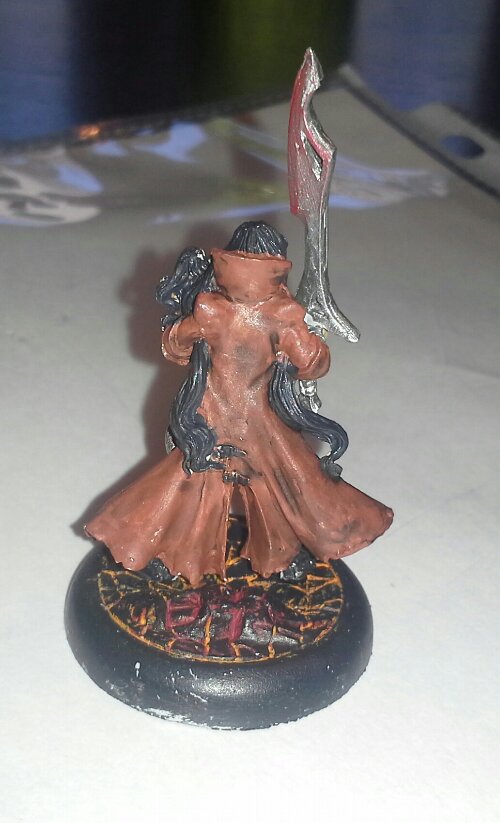 This is a kind of "ice queen" mini I did recently (not a Bones or in the guild, though I brought her out for show and tell):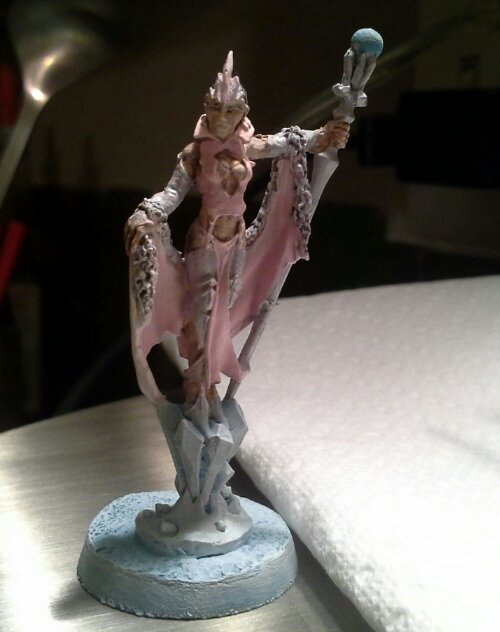 And the first Bones mini I painted, one of the Mythos Monsters add-ons: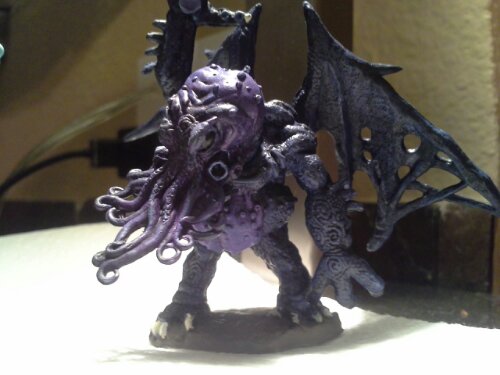 Finally, because she is nekkid, my special Sophie promo (Sophie on a motorcycle… with optional upgrade to nudity) is NSFW (not safe for work), so let's tuck her under a "more" tag, shall we?