Transmitted for your edification by Effie Cotter, Correspondent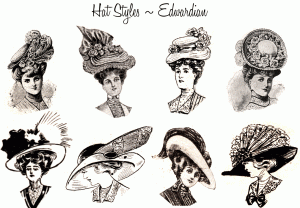 I attended the Wild Wild West Steampunk Convention this weekend, and had a magnificent time! I also took notes.
I took a lot of notes.
Over the course of the next few days, I will endeavor to organize my notes into something useful for you, Dear Reader, such that you might benefit from my wisdom.
On Friday morning, I attended the "Finicky Bits: Lost Arts Explained" workshop, which was supposed to be run by Susan Spenser, but was instead substitute-taught by Susan Holt. The curriculum covered cleaning and shaping feathers, trimming hats with ribbon and bits, fabric painting, attaching sequins, and cutting quills.
Unfortunately, there was poor lighting in the Sheriff's office where the workshop was held, so my photos are limited in scope.
Continue reading Steampunk – Hat Trims and Fiddly Details