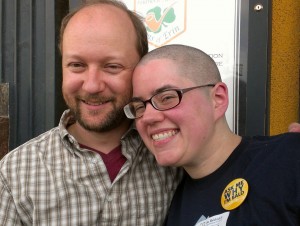 Well, the shave on Saturday went really well. I left for the event a little before 3. I got there and checked in and then went to change into my St. Baldrick's t-shirt.
As I walked into the bathroom, I heard them call my friend Brian's name, so I did my business, washed my hands, and dashed right out– didn't even get to change my shirt, because I wanted to watch his shave. He's a great sport and afterwards, I said hi and gave him hugs. He had to take off soon, so I went off to change and wait for my "people" to show up.
Then John, Suzanne, and Missy (my co-worker and St. Baldrick's team captain) showed up and we talked a bit. I had about 10 minutes or so to sip at my beer, then they called me up to the stage.
I was nervous, but the happy-nerves I get before going on stage. The MC was joking around with folks, offering to shave or not-shave guys' beards. I laughed and asked if they'd shave mine. He laughed, then joked about shaving off my eyebrows. I said "go for it– for $50 per eyebrow!" But nobody donated to see me lose eyebrows.
Then, cause I had a ponytail, they started with me first. And then I had to take off my glasses so I didn't see much for a while.
The MC was still joking around with everyone. In general, they shave part, usually in some hideous fashion, and then tease like they're going to leave it like that.
They did half of our shaves, then the MC said "Okay, there are 7 of you on stage– go raise $70, or we won't do the other half!"
I stayed on stage and collected donations from folks near the front– didn't feel like going down into the crowd (it was very crowded)!
We raised $300+ in that intermission, then hopped back on the chairs to finish the shaves.
In the second half, bagpipers came in playing Scotland the Brave. That was very moving and wonderful, for me. Made me feel strong and brave.
Then we were done, and I shook hands with my shaver and thanked her. Got off the stage, got my beer… life is good.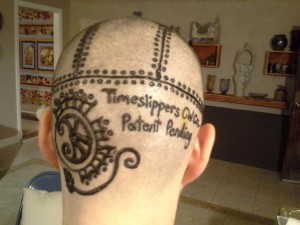 On Sunday, I went to Vegas Henna, where Melissa gave me a henna tattoo, of riveted plates and a logo– part of my steampunk weekend that's coming up! Note this picture is with the henna dye still on– after I removed it on Monday morning, it's a brownish stain, like henna is supposed to be. I'll need to re-shave before heading to the convention, to make it more visible.
And that was most of what I did on shave weekend!