This week's "hair challenge" is a bit different– donate to pick my hair color for SHAVE DAY! That's right– whoever donates the most between Sunday, February 24 and Friday noon, March 1st gets to pick my hair color for the shave on Saturday. (Edited to make this Friday, for payday reasons!)
Speaking of the shave: my shave time is 3:45 on Saturday! If you're not able to make it to McMullan's, hop on the Internet and watch the shave live, streaming from the bar straight to your computer!
So far, I've raised $885, and I'm about $115 short of my goal. I wanted to raise $1000, and I'm grateful for how far we've come. But as anyone who has ever dealt with a serious illness knows– it's not enough.
"This isn't a rich man's charity." Those words have stuck with me from the beginning. If you're thinking "well, I want to donate, but I only have a few bucks." You know what? That's fine. When I did the pancake fundraiser, I asked for $10 donations, because I know times are tough right now. I'm as happy when someone donates $5 as when they give $50. In fact, this week's hair color was selected by a $20 donor!
So, please. Before I start sounding repetitive an annoying. Donate. Pick my hair color for Saturday. Think how awesome it'll be when the "lime green with fuscia stripes" you ordered goes falling before the buzzing blades of the St. Baldrick's cosmetology team!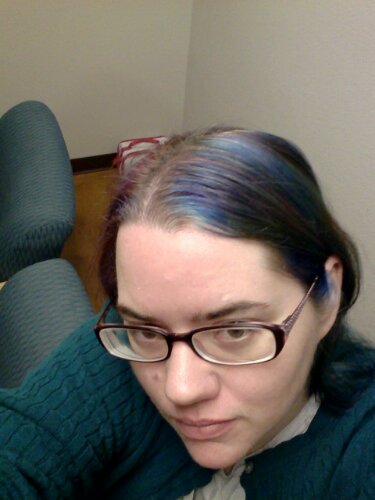 Forgive the serious look on my face– I'm trying to get a good angle while holding my phone…. weirdo.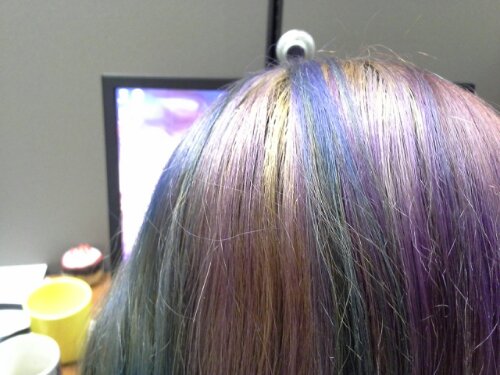 I promise to fully bleach out my hair (again) before dying it your favorite color before the shave!