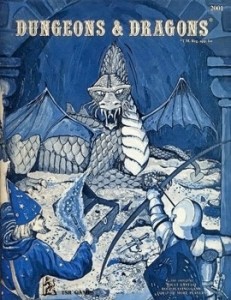 Over the weekend, I ran a short, nostalgia-laden D&D Basic edition adventure for some friends of mine. This was the second time I ran the adventure, and both times, the outcome was similar.
We started by handing out Players Handbooks and character sheets so everyone could make their characters. Although I had planned to just give everyone a stat array so they could shift numbers around, everyone wanted to roll dice instead. In fact, my house rule of "roll 4d6, drop the lowest die, and arrange to suit" was not wanted by about half the players, who wanted to roll 3d6 and put them in order. I gave everyone max hit points at 1st level instead of requiring them to roll. I think if they'd known that before picking their character classes, we might have had a mage in the party. As it was, we had two elves, one halfling, one dwarf, and one fighter.
To save time, I had created equipment lists which included some gold for everyone except the elves (who had equipment, but only 1 gp each– elves are apparently unthrifty beings). So they went shopping in the PHB.
After the shopping, I opened with "you meet in an inn!" And they sit around awkwardly saying things like "Oh, my– you look like adventurers! Mind if I sit with you!" And so forth.
After they do the introductions and decide they really need to go find some Adventure, I introduce the plot– the halfling has heard of a dungeon not to far away, along the Western Road, with vast amounts of treasure and only a single guardian. Surely this is no problem for hardy adventurers like themselves!
They're ready to set out, but I tell them it's about midnight. They go to sleep at the inn.
SPOILER WARNING! THE REST OF THIS POST HAS SPOILERS FROM THE ONE PAGE DUNGEON CODEX!
Continue reading D&D Basic