I went to Goodwill yesterday for an umbrella to make the frame of my parasol. The store had several used umbrellas, all for $2.99. Only one of them was a fully functional non-folding umbrella: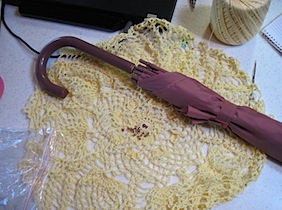 When I bought it, I thought it was pink, but John pointed out that it's really more of a mauve (purple) color. On the way home, I'd already been thinking about what I would need to do to make the yellow cover match the pink handle and spoke tips (the little things that the fabric attaches to– on this umbrella, they're tipped with mauve plastic). I was planning on using some pink beads, but when John pointed out the purple, I went to my basement and found some leftover beads from when I made Jenny's stole, 3 years ago: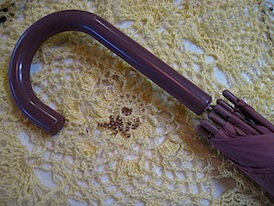 They match perfectly, and because yellow and purple are opposites on the color wheel, they really pop and give a very satisfying "put together" look to the whole project!