I've been knitting and crocheting lately. Big surprise, there, huh? I've been on something of a "hat jag," where I've just taken some yarn and either needles or a hook and just…. worked on a hat. It started when I wanted a project to work on while walking, but then I just brought it indoors and kept going.
There was the crocheted beret that I made for a visiting friend: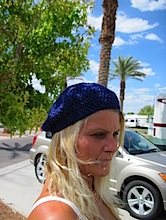 Then there's the knitted hat I designed: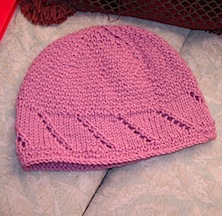 The green double-crochet-hat that my godmother taught me to make years and years ago: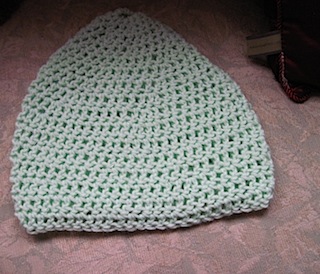 The "started out as a granny square, then I turned it into a slouchy hat" hat: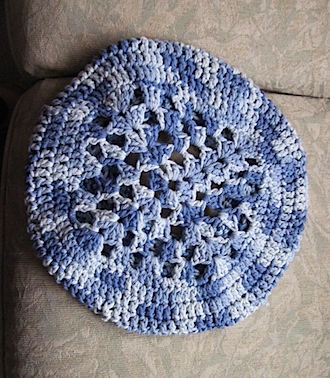 And finally, a pattern called the Baroness Beret by Susan Power: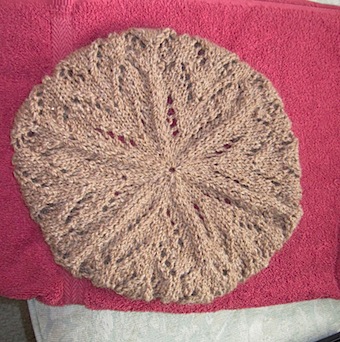 This one has a bit of a story behind it. The yarn is souvenir yarn that I bought in London last October. It's Toft Alpaca DK, but it's a heavy DK, so perfectly suited to a worsted-weight pattern. When I bought it, it came with a beret pattern, but I already wanted to make the Baroness with something, sometime. Still, I put the yarn into my stash and periodically I would take it out, feel its squishy goodness, and think "I should really decide what to make with this!"
In my heart of hearts, though, I knew that I wanted to make this pattern, using this yarn. So on Monday, I cast on for it. On Tuesday night at the Sin City Hookers, I tied off the last bit and wove in my ends.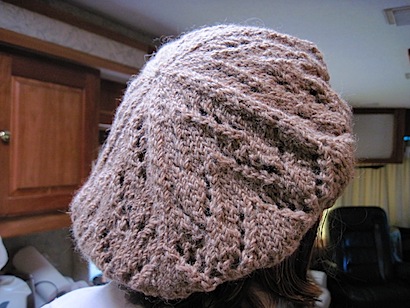 I'm now working on another "I want to make something out of this" project. I have about a pound of handspun yarn that all falls generally into the same "autumny yellow-purple" colorways. I've put all the yarn together and decided it would make a good looking sweater. Two problems: I don't have enough for a plus-sized sweater, but I've gotten around that by deciding to make it as a hope sweater for the size I want to be this winter. And I didn't have a pattern. So I sat down last weekend and wrote one, using the measurements I anticipate I will be in about November or December. It's a sideways cardigan sweater, so I'm starting at the front button band and working all the way around, vertically, then seaming and adding sleeves.
Right front:
At least, that was the plan. Then I noticed that I have exactly one long-change skein of yarn. This yarn will do what Noro does– the color will change gradually over several rows. If I split this into two, there will be a color change stripe from, say, purple to yellow, and then another color change from yellow to red.
So instead, after finishing the right front, all the way around the underarm and to the point where I had planned to cast on to go back up to the shoulder, I did this: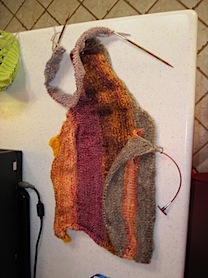 It's hard to see, I know. Look at the top. Attached to the right front shoulder is the right back shoulder, and then towards the left is the neck and the left back shoulder.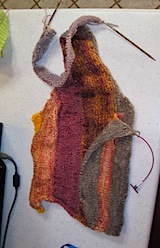 Here's a closeup of the right fron shoulder. The color is changing veeery slowly at this point. I think I'm going to love how the back of this sweater turns out.