So, I went to the Madrona Fiber Arts Retreat this past weekend, which was incredible and fun and definitely put me among "my tribe."
On Thursday, after an amazing spinning wheel class, I hit the marketplace and bought two things from one of the vendors. The first item was a Turkish spindle. A Turkish spindle has two interlocking cross pieces instead of a fixed circular whorl, and a removable shaft. The shaft locks the cross pieces together. As you spin, you wrap the yarn onto the spindle in such a way as to create a center pull ball. When you finish, you pull the shaft out, remove the cross pieces, and you immediately have a center-pull ball. You can then take that ball and ply it (either onto itself by pulling from both the outside and inside, or by plying it with another ball of spun singles), or you can knit it directly from the ball.
If you knit it directly from the ball, you will be knitting what's called an "energized single." That's a spun single that has a lot of energy in it, energy that hasn't been taken out or balanced through plying or through setting the yarn (you can set yarn by winding into hanks and hanging it, for instance, or simply by letting it sit for long enough– eventually, the yarn will relax).
Knitting energized singles was another class taught at Madrona. I did not go to that class, but I will definitely consider it next time I have time and opportunity.
Because a single of yarn is twisted in one direction and not balanced through plying, it is naturally lopsided. When you knit with a spun single, your stitches will have a more pronounced "side" to the stitch.
When you knit with energized singles, the fabric you create will actually have a bias, where the fabric slants to one side.
Getting back to my story. On Thursday afternoon, I had been in Tacoma for slightly more than 12 hours (I got in at about midnight). I bought a Turkish spindle and one ounce of a baby camel/merino wool blend. It's naturally colored, so it has that classic camel tan to it, and it's a mostly uniform shade (the undyed merino gives a very minor color variation).
Using the technique Judith MacKenzie McCuin taught in class, I spun a little leader (that's your "starter yarn" that you put on your spindle before you can really start spinning) against my thigh, tied it on, and got spinning.. I spun and spun all Thursday evening at dinner and afterwards, having so much fun. I spoke to 300+ knitters at the charity knit-in Thursday night, then went back to my seat and spun some more.
Oh, yeah– I spoke to 300+ knitters on Thursday night. Yes, mind-blowing. Here's me and the other speakers: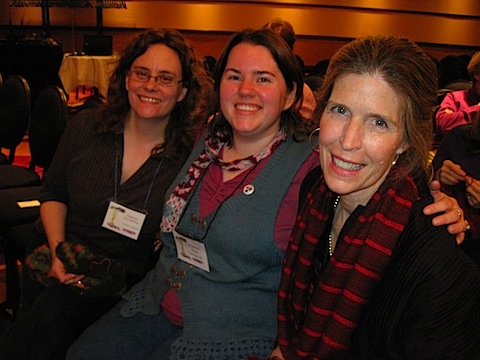 Yeah. I don't have fear of public speaking, but seriously. Would you want to follow Linda Cortright and Stephanie Pearl-McPhee?!???
It was amazing, and they were amazing. Linda and Stephanie spoke about the heroism of knitters as a collective, and the important work being supported by the knitters, through Keep the Fleece and Knitters without Borders.
Anyway, back to the spinning, because seriously, when I think about the fact that I spoke to 300 knitters immediately following the Yarn Harlot, I'm tempted to go lie down and have a beer.
After the amazing charity knit-in, I spun some more and then, wow. The spindle kept dropping. Now, I firmly believe I could keep putting more fiber on this spindle (I could, after all, still see wood, you know). But I said "ok, no problem!" and I decided that it was full and it was time to remove the fiber. So I pulled out the shaft and cross-pieces, found the center thread, and smiled. The single ended up being about the size of a laceweight yarn (which is a good single for me– very plyable if I wanted to do that).
I dug in my knitting bag, pulled out a size 3 needle, and cast on 30 stitches. 6 for the garter stitch edges, 24 for the stuff in the middle. 24 is a good number for samplers, because you can make most repeats fit into it (2, 3, 4, 6, 8, 12, and with a little extra noodging on the edges, 10, 20, even 18 will fit). I knitted a bunch of little squares on the scarf, using various stitches that I know or which were recommended by other knitters. Before I left the office, I tore off a couple of pages from my stitch-a-day calendar that I got last year as a gift, so I had about 7 extra stitches I'd never tried.
I did go back to the marketplace several times over the weekend, of course. At one point, I brought the newly-spun yarn to show Jim, who'd sold me the spindle. On my way in, I passed several knitters, held up my single, and proudly announces "I made yarn!"
They were all simultaneously impressed and amused. Especially when I explained that this was not my first time making yarn, that I've been making yarn for almost 10 years, and that somehow, I have never lost the sense of wonder and amazement every time I make string out of animal fur and a stick.
When I ran out of yarn on Friday night, I took out my spindle, thigh-spun another leader, and spun some more. When I filled the spindle on Saturday, I spliced the end of my knitting to the center-pull ball from my spindle, and resumed knitting. You get the theme here, right? Spin a little, knit a little. As a bonus, every 20 rows or so, I changed patterns in my knitting. This kept me interested, and it kept me from becoming complacent about my knitting.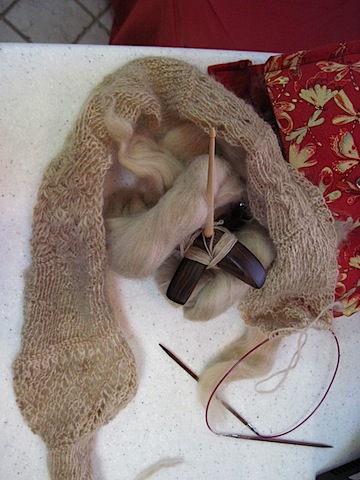 Because I spun my single clockwise, my fabric biases to the right: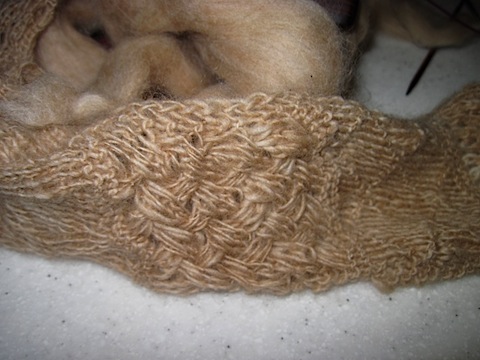 It looks like a right wonky mess right now, but I know when it's all blocked out, it will be lovely. I even added some stitches when I did a cabled pattern, so the scarf wouldn't draw in too much with the cables.
On Sunday morning, about an hour before the charity raffle drawing, I donated to the charity fund that goes to Keep the Fleece and Doctors Without Borders. The drawing went off (the grand prizes included cashmere roving), and I won! Not the grand prize, but I won another prize, which I was allowed to select from several donated goodies… I chose a very nice bundle of yak fiber, contributed by Carolina Homespun.
I almost kept my 2010 yarn diet.
I bought about a pound of roving in some beautiful colors, and I bought a book on color (I also traded for a couple of other books, including Judith's book The Intentional Spinner), and a pattern, and a little project bag that's very handy. I bought one skein of yarn, but it is a gift. It is not for a gift– the yarn itself is a gift, and therefore exempt from the diet.
And I just went back and re-read my diet rules. Apparently, I didn't give myself a fiber loophole. Whoops. OK, so as of Thursday, I blew my yarn diet. But if I say that my diet was for yarn only, then I did great.
Sigh.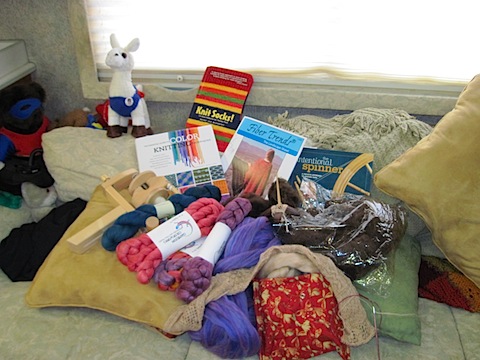 (It's hard to see, but Madrona the Llama is wearing a little superhero caped sweater.)
Meanwhile, the projects I brought with me to knit languished all weekend long, which is why this: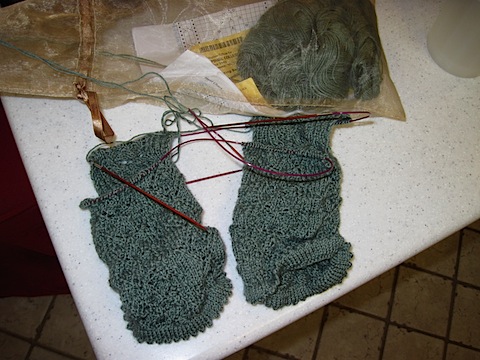 My Iron Knitter round 2 competition socks? Totally not done, not before the deadline, and not even afterwards. So I'm officially "out" of the competition. But as a parting gift, my initial $4.00 contribution to the Sock Wars administrative costs entitled me to 11 different sock patterns, counting the 5 released for Sock Wars and the 6 released for Iron Knitter.
And yes. I did, in fact, pack 3 projects with the irrational fear that "I will run out of things to knit!" I knitted for about an hour on any of them, and then abandoned them in favor of playing with my new spindle.
Now, on Sunday afternoon, I packed everything up and went to the ergonomics for knitters class. This was very enlightening and I hope I can use what Carson taught us to improve my computing as well as my knitting posture and position. One of the things I learned in Carson's class is that my sampler scarf project is an excellent project for ergonomics. It varies the stitches frequently, and even varies the task (spinning to knitting and back again). If I were to use different fibers and needles, it would vary those as well– again, very helpful. Combined with good, supportive posture, and/or walking and stretching, it could be downright therapeutic.
But when I go to the yarn shop and pitch it as a class proposal, I'll just stick with "it's fun and educational." I am not an ergonomics specialist, after all.
Oh, and throughout the weekend we made superhero masks, but I'll post those on the Comicknits.com blog.