These are for my stepmother: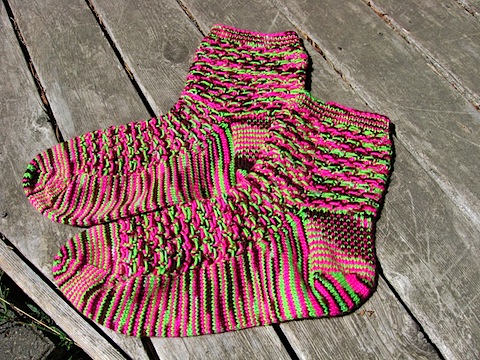 And then I went on to design these: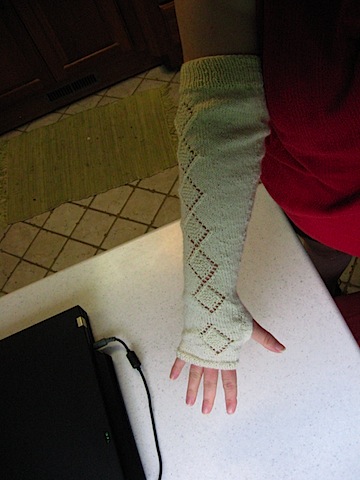 They are the "Get Well Soon" fingerless gloves. Name to change when I actually finish writing up the pattern and releasing it. The pattern will be free to Handknit Heroes subscribers, as a "we're sorry we're running late" bonus. What's happened with Issue #3 is that (a) I ran late with the script, and (b) Marc hurt his back. Badly. So he's on bed rest and can't draw. It's very, very hard to create a comic book when you don't have an artist. I won't say it's impossible, but with my artistic skills, it might as well be. So, since I can write a pattern (and had been meaning to write this for a while), I did so, and we'll be giving it to our subscribers as a "thanks for your patience" present.
Swatches should be useful. The pink and green is a funky disco skirt for Barbie. The white is a very classic sweater for a WebKinz.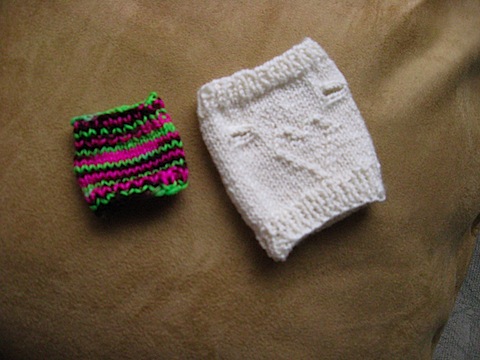 And the other day, I cast on for this: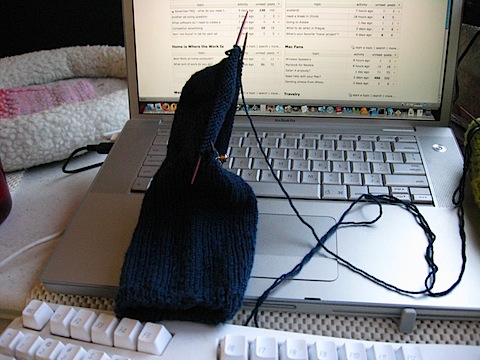 I know, it doesn't look like much. but would you believe it's one half of a sock for my dad? Dad's employer, the Transportation Security Agency, has very stringent uniform requirements. Socks are troublesome– they must be dark blue or black, completely fill the space between shoes and pants cuff, and cannot have decoration between the shoe and pant cuff.
The problem, as I see it, is that my dad's socks do not fit him. I have seen his feet and ankles after he comes home and kicks off his shoes, and there is a ridge around his ankle, where the band of his sock has been digging into his ankle. People, that is not good for your feet! And it's not normal– we put up with it because socks that do that (with elastic in the cuffs) are $1 a pair, but they're all made one uniform size, and they're not made to make your feet happy!
This sock is the Colonial Rib pattern, which is a rib stitch, so the sock will be stretchy. The top of the cuff is 1×1 ribbing, which is the stretchiest ribbing possible. With a little luck and some nice, even knitting, this pair of socks will fit my dad without making his feet uncomfortable. Happy feet, happy man.
John and I arrived in Portland about an hour ago. We will probably have a quiet night with pizza tonight, but look forward to seeing some Portland folks in the next week or two. We're here till the 12th, and would love to visit ALL our friends while we're in town!