So, for the past several months, John and I were planning on going to Mono Lake, a beautiful and interesting part of California that's located on the other side of Yosemite. It takes a bit of "getting there" for us to get there, as the number of mountain roads that are safe and passable by our rig are not many. We'd planned to take it slow, though, and go up towards Lake Tahoe, cross at the relatively safe pass there, and then down to Lee Vining.
However, it turns out that Mono Lake, as we head into the second week of June, is having thunderstorms. At the higher elevations, "thunderstorm" equals "blizzard," and we are in no way equipped for the kind of weather.
We came to Tracy, CA on Friday to learn how to crew for a hot air balloon, but the flight was cancelled due to weather (it's windy!)
An alternative is to go through Yosemite on 120, but we've already determined that doing that would require an advance scouting trip by Jeep. Which would be no trouble, but in calling around the campgrounds in Mariposa and Groveland, we can't find an open campsite to get into. Our fault for leaving it so long.
This happens to us pretty regularly, in fact, and we embrace it. We'll have planned to go one place, and then abruptly change our plans and go elsewhere. Sometimes the change in plans is a great, fun thing, like deciding to go to Indianapolis instead of Chicago on our way to Missouri last Fall. Sometimes, it's less fun, like deciding to stay in upstate New York last summer while Alladin recovered.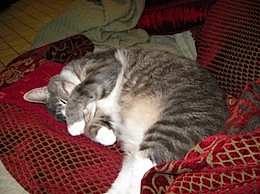 Oh, in case I forgot to mention: Alladin had a vet checkup while we were in Santa Cruz, and all his blood work came back absolutely perfect. On the advice of our vet, we have switched him to Fancy Feast, which is apparently a very healthy food for cats, and is available everywhere. He gets 3 cans a day, which means he's getting breakfast, lunch, and dinner. But he behaves better on the smaller, more frequent meals, so who am I to complain? If we go out during the day and he has to miss lunch, he gets a little extra at dinner.
So yesterday we sat down with the map and figured out where to go next. We're heading north, towards Lassen Volcanic National Park and Mt. Shasta next, with hopes for some nice weather and pretty mountain scenery and lakes. We have 6 weeks to get from Tracy to Portland, Oregon, and a few pretty places to see on the way there.
Last week, as therapy and reward for doing Maker Faire and generally representing my crochet side in the Crochet Liberation Front, I made the following: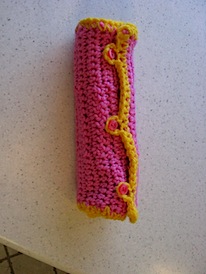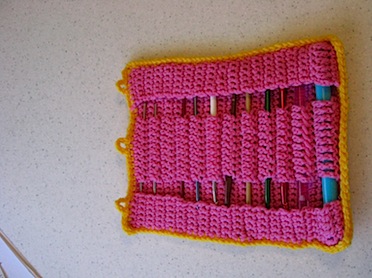 It's a crochet hook holder, pattern by Priscilla Hewitt. I made enough slots for the hooks I already have, plus one. Why plus one? Because I think I have a D hook somewhere, but I can't find it. Yarn is Cascade 220 and something from Plymouth that I had part of a ball left over from making a scarf. Buttons I had on hand– basically, I made this all with stuff lying around the house. Oh, and my beautiful H hook from Laurel Hill, of course. It's an all-wood hook, made in Vietnam, as part of Laurel Hill's initiative to bring a sustainable lifestyle and infrastructure to a Vietnamese village. And may I say, this is the nicest crochet hook I've ever used? It's downright warm in my hand! Granted, at $8, the cost is 3-4 times an ordinary steel or plastic hook, but for a really beautiful, well-made tool for the craft? Well worth it. Also, crochet hooks aren't monogamous– you can take one out of your current project and use it on another work-in-progress without ever losing a stitch.
I modified the pattern slightly to make the slots shorter (a 20-stitch slot was waaay too wide), and made two of the pockets wider to accommodate my P and Q hooks (the big fat blue one on the end is the Q hook). I am considering felting it. To do that, I would put plastic straws into the pockets before putting it in the washer, to keep the pockets from felting to each other. But I think the yellow I used in the edging is superwash, so it would probably be a felting disaster to try at this point.