Two finished projects this week. First, there's the incredibly silly-fun superhero mask I crocheted at Michelle's house last week: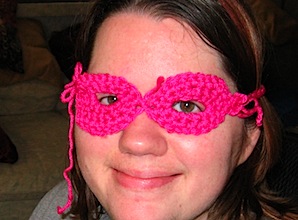 Yarn is Red Heart Super Saver. Pattern is improvised/freeform. Perhaps I will write it up, though, so you all can join in the fun!
Next, a pair of socks for my friend "Jane":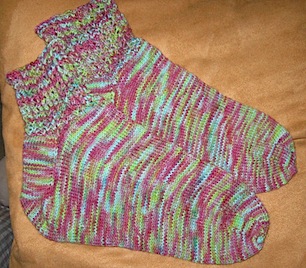 Used the random increase technique discussed in Cat Bordhi's New Pathways for Sock Knitters. Toe-up, finished the socks with a lace rib pattern.
As soon as I had these off the needles, I cast on for a pair of socks for Johnny: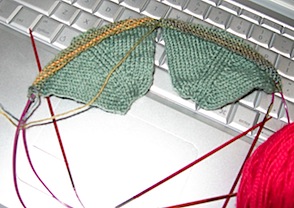 The yarn is Brown Sheep Wildfoote in a nice sage, plus Trekking XXL bamboo yarn that was frogged from these socks: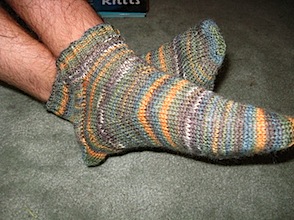 John didn't like them very much, and since he never wore them, I frogged them to recover the yarn. They were knit on size 3's, which left them a little too stretchy and bumpy on the inside. For the new socks, I'm knitting them on size 1's, which should make a tighter fabric. I'm also knitting the soles in reverse stockinette, so the bottom of his foot touches a flat, smooth fabric. I'm adding a rib panel around the base of the foot to help snug the socks against his foot (John has a high instep but flat feet). I'm also using a random increase on these socks so there won't be any discernible seam. Finally, the short row heel turn will have a wider base so the heels aren't so "pointy."